Brooklyn Workers' Premises Liability Lawyers
Employers and building owners have a responsibility to provide a safe place for workers to do their jobs. Despite this, workers in Brooklyn are regularly injured by unsafe conditions at offices and other work sites. Workers may look first to workers' compensation, but it may not cover the full cost of their injuries.
In some cases, workers who are injured by dangerous conditions at work may have premises liability claims. The Orlow Firm can help. We are a Brooklyn law firm that focuses on helping injured people obtain the compensation they need to recover. We believe our clients deserve the best representation possible, and we make sure that they speak directly with a partner at the firm. We serve clients throughout New York City, including Brooklyn, Brooklyn, Manhattan and The Bronx.
Serious Injuries in Brooklyn From Workplace Premises Liability Accidents
Premises liability requires property owners and managers to keep buildings and other property safe and provide warning of potential hazards. When accidents happen because property was unsafe and warnings were not given, serious injuries can result. Our lawyers can help injured workers with claims after many types of workplace accidents, including:
Cleaning hazards. Maintenance companies that wash floors and clean offices may create dangerous situations for workers in the building. Slip-and-fall accidents can result in serious head injuries, spinal cord injuries and broken bones.
Elevator accidents. Elevator accidents can happen when machinery is defective or when elevators are not maintained or inspected properly.
Equipment hazards. Cleaning and construction equipment can create hazards if they are not safely stored and used.
Poorly maintained buildings. Buildings that are not kept up may develop safety issues such as broken stairs, uneven sidewalks, inadequate fire protection and other serious dangers.
Workers who are injured due to one of these hazards may have a premises liability claim. Although employers often cannot be sued directly, workers may be able to file third-party claims against other negligent parties, including cleaning companies, property owners, construction firms, elevator maintenance companies and others. Successful third-party claims may result in more compensation than workers' compensation alone.
Contact Our Brooklyn Premises Liability Attorneys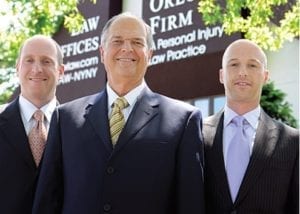 If you believe you may have a premises liability claim from a workplace accident, contact our law firm for a free consultation.
Call (646) 647-3398 or contact us online.