New York City Amputations Lawyers
Did you lose a limb in an accident in New York City?
An amputation is more than losing a limb. It is losing your normal way of life. Depending on the amputation site, you could be facing lifelong medical care, including physical therapy, fittings for prosthetic limbs and additional surgeries. You may have already needed to quit your job and learned that even simple, everyday tasks are a struggle.
What are your options? How much compensation can you expect to receive from the negligent party responsible for your suffering? Does it make a difference if your accident occurred at work? These are the questions the personal injury lawyers at The Orlow Firm answer every day.
Lawyers For Amputation Cases in New York City
With more than 120 years of combined legal experience, you can count on us to provide honest legal advice and skilled representation in your personal injury claim. It is our unyielding commitment to put you at ease by giving you all the facts and by listening to you to assess the full effect of your injury. This helps us build a case that achieves a fair outcome on your behalf. And best of all, you will not have to pay attorney fees unless we recover money for you.
We Can Help No Matter Where or How Your Accident Occurred
Being injured in a car accident is a very different case than being injured while on the job. The Orlow Firm is experienced in handling both types of cases. We have represented clients in Brooklyn, Queens, The Bronx, Manhattan and throughout New York in motor vehicle accidents, falls from heights and other types of personal injury claims. Additionally, we have handled third-party claims for people injured at work.
Our NYC personal injury firm will pursue maximum compensation no matter what type of accident your case involves:
Loss of a limb in a vehicle rollover
Machinery accident resulting in amputation of the foot, hand, leg or arm
Heavy construction equipment failures
Electrical saw accidents
Subway and train accidents (pushed under a train)
Contact The Orlow Firm Today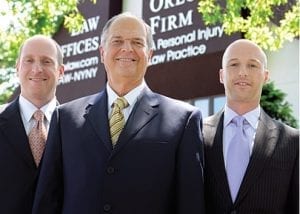 Amputations often have far-reaching consequences that have an emotional, physical and financial toll on you and your family. If you were injured due to the negligence of another, contact a NYC personal injury attorney at The Orlow Firm today to schedule a free initial consultation. Let us help you receive the justice you deserve.
To speak with an attorney, call (646) 647-3398.