New York City Wrongful Death Lawyers
New York City Wrongful Death Lawyers Serving clients in NYC and throughout New York for Over 25 years
Family members or representatives of an estate of an individual who was killed in an accident may bring a wrongful death action to recover compensation. The estate or surviving family members of any victim who was killed in a fatal car accident, premises liability or construction site accident, or suffered another accidental death may be entitled to compensation.
At The Orlow Firm, our attorneys are sympathetic to the needs of individuals and families facing wrongful death litigation. We know that a legal dispute can be emotional, stressful, and financially burdensome. With our support, you can trust that your case will be handled professionally and effectively.
Your family deserves compensation and the right to financial security. Our attorneys will work to see you restored so that you can move on to recovery.
We have handled wrongful death cases related to all of the following:
Filing a legal claim on behalf of a loved one can be extremely difficult. If your spouse, parent, or child suffered a fatal injury or abuse, you can file a civil action against any party that acted negligently, recklessly, or intentionally in causing those injuries. If your loved one suffered a deadly crash or other fatal accident, our attorneys will work with you to secure your financial stability and stabilize your family.
It is imperative that your legal team can support you throughout your wrongful death case. Throughout the legal process, we will remain attentive to your needs and answer any questions that you may have. Whether you want to voice a concern or complaint, ask a question, or inquire about the legal process, our attorneys will remain available to you. We work with clients to explore all of their options and alternatives to litigation. While we are effective negotiators, we prepare meticulously to take any case to trial.
Fee Arrangements
At The Orlow Firm, we take all wrongful death cases on a "contingent fee" basis. A contingent fee means that the attorneys are paid only at the time when, and if, they recover money damages for the client. A contingent fee thereby allows an injured person with little or no financial resources to obtain competent legal assistance. At the time recovery is obtained, the attorneys' fee is a percentage of the award in the case. If there is no recovery, there will be no attorneys' fees.*
Contact The Orlow Firm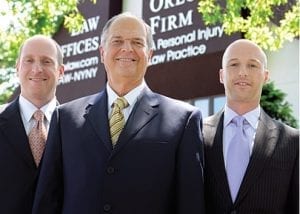 If you have recently suffered an injury or wonder if you have a legal claim, our qualified and experienced lawyers will provide you with a confidential and honest assessment of your case.
We will come to you if you cannot come to us. Se habla español.
Call (646) 647-3398 or contact our offices online to speak to a New York City wrongful death attorney.
* Case expenses are advanced by our firm and are reimbursed to the firm by the client at the conclusion of the case.