Bronx Personal Injury Lawyers
Bronx Personal Injury Lawyers & Legal Help Since 1981
Bringing Over 120 Years of Combined Personal Injury Law Legal Experience to Bronx Residents
At The Orlow Firm, our Bronx personal injury lawyers have helped clients injured in The Bronx since our firm was founded almost 30 years ago.
Were you injured traveling to or within The Bronx? Did police use excessive force when handling or arresting you? Perhaps you were you injured at a Bronx retail establishment or while working at a Bronx construction or industrial site? Whatever grounds your case may fall under, our Bronx personal injury lawyers can help.
Our attorney team has over six decades of experience handling personal injury claims in The Bronx and across all of New York City. In our practice, we handle almost all types of accidents and injuries, from escalator and elevator accidents to truck crashes and from broken bones to wrongful death. Some of the more frequent cases we handle include:
Bronx Car Accident Injuries
Bronx Workers' Compensation
Bronx Construction Accident Injuries
Bronx Police Misconduct and Brutality
Bronx Lead Poisoning
Have you been injured in The Bronx or in any New York City borough? Contact the Bronx personal injury attorneys of The Orlow Firm at (646) 647-3398.
Having handled thousands of personal injury cases, our Bronx personal injury lawyers are highly efficient and skilled in investigating on-the-job, dangerous property and motor vehicle accidents, and all other types of accident and injury claims. Our diligence and experience have resulted in many millions of dollars in compensation for injured Bronx-resident clients. For a no-charge consultation regarding your potential claim, contact one of our four New York City offices.
Contact Us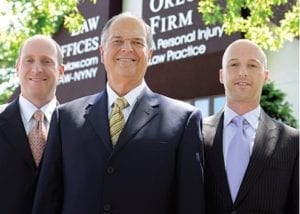 At The Orlow Firm, we also offer free initial consultations, handle cases exclusively on a contingency fee basis and can come to you if you cannot come to us.
To contact our firm, call (646) 647-3398.