New York City Workers' Compensation Lawyers
Injured at Work in New York City Accident Lawyers
Personal Injury Legal Help in NYC Since 1981
Many governmental benefit programs are unwieldy, have difficult-to-understand processes and almost invariably bring incomprehensible delays. The workers' compensation program, though, is designed to provide needed financial relief to injured workers quickly and efficiently.
Workers' compensation benefits, however, come with limitations. They generally only provide compensation for lost wages and medical expenses. Workers' compensation benefits do not provide for large awards meant to compensate injury victims for pain and suffering and a diminished quality of life.
At The Orlow Firm, we offer a solution to this limitation in the form of potential third party claims. Third party claims often result in five-, six- and even seven-figure awards and are filed against third parties like contractors, subcontractors, vendors, delivery drivers and suppliers.
If you were injured on the job and need legal help, contact us. We can refer you to a highly capable workers' compensation law firm and investigate your potential third party claim.
Were you hurt at work in any of New York City's five boroughs? Contact NYC workers' compensation attorneys of The Orlow Firm at (646) 647-3398 for experienced and caring legal help.
At The Orlow Firm, we have handled hundreds of workplace injury claims involving losses ranging from minor injuries to permanent disability and wrongful death. Our lawyers are in court weekly and our litigation skills serve our clients well — both in court and negotiations. Insurers know we will immediately file a lawsuit if they fail to make a reasonable offer.
Lost Wages Due to Injuries at Work
Compensation After A Work-Related Injury
Workplace accidents are stressful. On top of the pain and medical care, injured workers often worry about how they will make ends meet while they are unable to work. Fortunately, injured workers can often obtain compensation for their lost wages through workers' compensation or a personal injury claim.
At The Orlow Firm, our New York City personal injury lawyers have extensive experience helping injured workers obtain the compensation they need to recover from serious workplace accidents. We can help all types of injured workers collect lost wages when they have to miss a significant period away from work. When you come to our firm, you will speak directly with a partner at our firm. We think you should expect nothing less.
Accidents Happen To All Types Of Workers
Construction workers may be especially likely to miss work due to accidents. Their jobs are physically challenging even when they are healthy. An injury can easily result in missed time from a construction job. If you have missed work because of a serious construction injury, our law firm may be able to help you obtain compensation for your losses through a construction accident lawsuit.
Although construction sites are particularly dangerous, any worker can become involved in a workplace accident. Sales workers and others who drive for a living may be in motor vehicle accidents. Office workers may sustain back injuries or slip and fall on poorly maintained floors or stairs. Regardless of what kind of job a worker has, he or she may have legal options for lost wages due to job-related accidents.
How The Orlow Firm Can Help
At The Orlow Firm, our law firm can refer you to a qualified workers' compensation firm if you have lost time at work due to a job-related injury. Through workers' compensation, you can receive at least partial wage replacement.
We will also investigate your accident for potential third-party claims. Third-party claims may be filed against negligent parties other than your employer, and you can often obtain more money damages than from workers' compensation alone. Our team will work to show the value of the time you have missed at work as well as time that you may have to miss in the future due to your injuries.
Contact The Orlow Firm
Our personal injury cases are handled on a contingency fee basis, which means that you will not owe us attorneys fees unless we are successful in your claim.
To discuss your case with one of our New York workers compensation attorneys, call (646) 647-3398 or contact us online.
Medical Expenses Due To Injury At Work
Medical care is expensive. If you are a worker who has been injured on the job, you may be wondering how you will pay for the doctor bills, therapy, medication and other treatments you need to recover. The good news is that you have options.
At The Orlow Firm, you will find experienced attorneys who can help you obtain the compensation you need to pay for medical expenses you face as the result of a workplace accident. We provide representation in personal injury cases throughout New York City, including Brooklyn, Queens, Manhattan and the Bronx.
Does Workers' Compensation Cover Your Care?
If you are an employee who is covered by workers' compensation, your doctor and hospital bills will be covered by your workers' compensation insurer. Your employer's insurance generally covers drugs and equipment prescribed by your doctor, along with traveling expenses for treatment.
However, not all workers are covered by workers' compensation insurance. Some are independent contractors, self-employed or otherwise exempt. In these cases, injured workers cannot rely on their insurer to cover their medical expenses.
Personal Injury Claims May Cover Medical Expenses
When workers' compensation does not provide the medical coverage that an injured worker needs to recover, a lawsuit may. A successful personal injury claim against negligent parties can result in enough compensation to cover medical expenses, lost wages, pain and suffering and other damages that workers suffer as a result of a workplace injury.
Many employees who are covered by workers' compensation may not sue their employer directly. However, they can hold third parties that caused or contributed to an accident responsible through a lawsuit.
At The Orlow Firm, our attorneys can help injured workers sort through the difficult questions of who will pay for medical care. We will refer injured employees to a workers' compensation law firm for assistance with a claim, and we will carefully review workplace accidents for potential personal injury claims. We have decades of experience representing clients in a wide range of workplace accidents.
Contact The Orlow Firm
To learn more, contact us for a free initial consultation. Our personal injury cases are handled on a contingency fee basis, which means we charge attorneys fees only when we successfully recover compensation for our client.
Call (646) 647-3398 or contact us online.
New York City Workers' Compensation Regulations
People tend not to think about their rights after an on-the-job accident until they have actually been injured. When injuries do occur, pain, worry, time-consuming medical treatment and even prescribed narcotics can make it difficult to have a full understanding of one's rights.
The experienced New York construction site accident lawyers of The Orlow Firm have effectively helped numerous workers following on-the-job injuries. If you've been injured, contact us for a no-charge discussion of your rights. Call (646) 647-3398 or contact us online. When you work with us, you will speak with a partner at the firm. We believe you should expect nothing less from the firm you choose for your injury case.
Workers' Compensation Facts
Here are a few facts about workers' compensation law that are important to any claim:
Workers' compensation benefits provide for a portion of lost wages, medical expenses and disability compensation for injured workers.
Often, seriously injured workers' claims are denied by administrative law judges (ALJs).
Injured workers cannot sue their employer or co-workers following injuries.
Workers can sue negligent third parties, including contractors and subcontractors.
If you have been injured in a construction site accident, we can refer you to an experienced workers' compensation lawyer and then handle your third-party claim when circumstances permit.
Why Work With The Orlow Firm?
Our experience and commitment to injured clients' rights have yielded millions of dollars in compensation, many clients and numerous referrals. Recent testimonials from former clients include:
Heartfelt gratitude to Mr. Orlow. You taught me to stand up for my rights …
As a former client, I have great admiration for you and your sons for the way they represent clients in the best legal way. Keep up your good work.
I thank you for a job well done. You will always be in my heart.
Contact the Orlow Firm Today
Contact The Orlow Firm for experienced legal representation in third-party claims. We offer free initial consultations and operate four offices across New York City for your convenience. We can go to you if you cannot come to us.
To contact an attorney, call (646) 647-3398 or send us an online message.
Work Injury? Workers' Comp May Not be the Only Answer
According to the Census of Fatal Occupational Injuries (CFOI), preliminary totals show the number of fatal work accidents recorded in the United States was the lowest since 1992. Nevertheless, there were 4,340 fatal work injuries and the final count in April 2011 is expected to increase that figure by about three percent.
The New York Times reports that Bill Kojola, an expert in the A.F.L.-C.I.O.'s occupational safety department, expressed skepticism in the results, saying, "I would not trust these numbers at the present time. It seemed that the state partners that report fatalities have been delayed because they are strapped for cash."
Furthermore, to the extent there has been a decline, CFOI acknowledges that economic factors played a major role in any such decrease. Compared to 2008, total hours worked fell by six percent in 2009; the construction industry, which has historically accounted for a significant share of work accidents, saw even larger declines in employment or hours worked.
Beyond Workers' Compensation
Many employees know they generally give up the right to sue their employer for the ability to pursue workers' compensation benefits for a work injury. This allows people to seek compensation through an administrative process aimed at providing a faster and more economical result than traditional litigation.
What people may not realize is that the waiver does not extend beyond the liability of the employer. Workers' compensation does not excuse the negligence of third parties – that is, other involved people or businesses.
Third Party Claims
According to the U.S. Bureau of Labor Statistics, preliminary data indicates that there were 184 fatal work injuries in New York alone in 2009. Depending on the specific circumstances, the families of some of these workers may have claims against property owners, other subcontractors or manufacturers. These third party claims may frequently be more valuable than any workers' compensation benefits.
Fatal Falls
In 2009, falls at work were the second most frequent cause of death among fatal occupational injuries, totaling 617 nationally; there were 24 fatal work falls involving employees in New York. Roughly half of all fatal falls occur in construction, and may involve falls to lower levels as well as falls from ladders or scaffolding.
Additionally, building and grounds cleaning and maintenance workers were among the few occupations that saw an increase in fatal injuries in 2009. There were 147 fatalities in the U.S. among grounds maintenance personnel alone. Property owners have a duty to provide a reasonably safe environment to both guests and employees. Those who know about dangerous conditions on their property, such as an open stairwell, may be liable to workers who fall. Even if they were not personally aware of the dangerous condition but had reason to know about it, the property owners may still be liable.
Contact with Objects and Equipment
Being struck by an object was the fourth leading cause of a fatal work injury. Nationally, 414 workers died in 2009 after being struck by an object; in New York, that total was 29. Workers who are struck by objects or equipment dropped by employees of other subcontractors may have a third-party claim against the other subcontractor. Workers in New York generally give up only the ability to sue their own employers but if another subcontractor acts negligently and causes injury or death, that subcontractor may still be liable for damages.
Caught in Equipment or Object
There were 232 employee deaths from being caught by equipment or objects in 2009; New York saw 10 such fatal job injuries. Employees who are injured as a result of using defective equipment may be able to seek compensation from the manufacturer, distributor or supplier. Companies have a legal duty of care with regard to producing and selling equipment that is reasonably free from defects.
Help for Those Hurt
Labor Secretary Hilda L. Solis reportedly issued a statement saying that even a "single worker hurt or killed on the job is one too many." An Injured worker is not without recourse and should consult with an attorney regarding their rights to compensation. If the employee has been killed in a work accident, the surviving spouse, child or parent may have a claim for damages. While damages from a lawsuit can never replace the value of the family member lost, they may provide some economic stability while sending a message to the negligent party.
The fatality rate for work injuries in the U.S. in 2009 was highest for Hispanic workers, at 3.7 per 100,000 full-time-equivalent workers. Of the foreign-born workers who were fatally injured, 40 percent were born in Mexico. Of the 63 fatal occupational injuries in New York City in 2009, 20 were Hispanic or Latino.
Undocumented aliens (illegal aliens) who suffer a work injury may potentially be treated just as any other worker, even if they do not have a work permit, work visa or green card. Simply discussing their legal rights with a lawyer does not put them or their families at risk.
Also, those who fear that meeting with an attorney will put their job at risk should know that a confidential consultation with an independent attorney does not become part of their employment files; the meeting can instead equip workers with the information necessary to seek adequate compensation for their injuries.
Workplace Injury and Third Party Liability
Thousands of workers are crippled or killed each year in workplace accidents. Although Workers Compensation is the exclusive remedy for most worksite injury, the benefits provided are often inadequate to cover all damages. In addition, because workers compensation was designed as a no-fault system, it fails to place responsibility squarely on those who have a duty to maintain safe working environments.
Accident-Prone Construction Sites
Construction sites present unlimited opportunities for accidents and injuries. In one court case, plaintiff was working as an electrician while an employee of the duct work subcontractor was improperly operating a hoist. The hoist unbalanced and fell over, causing plaintiff to be hit and injured by an overhead lighting cable. In other cases, serious and sometimes fatal mishaps occur because of faulty machinery. For example, one worker was killed when a "ram" weighing 4600 pounds broke loose from a vertical boring mill and struck him. Another worker was hurt by molten metal flashing out of a die casting machine. The machine contained no warnings of this risk, even though the worksite manager was aware of it.
In some states, employers will not have workers compensation immunity when their conduct is substantially certain to cause injury to an employee. These situations often arise when employers are aware of a certain danger but knowingly and intentionally fail to take action to prevent it from causing injury. Further, employers who knowingly and intentionally violate OSHA safety regulations may also be held liable for worker injury resulting from such misconduct.
About Third-Party Litigation
Third party litigation requires a substantial level of expertise. Lawyers must know how to properly investigate a workplace injury and determine who should be held responsible. For instance, the manufacturer of a product has a duty to insure that the product is safe for its intended use. Unfortunately, equipment may be defectively designed, inadequately inspected, carelessly assembled and or inadequately tested. It may be lacking adequate warnings and directions for proper use as well as proper safety devices. The supplier of the equipment may neglect to provide all required safety devices. Or, the person who inspects or maintains the machinery may cause it to become unsafe. A third party who modifies or alters a product and renders it unsafe is legally responsible for the injury that it causes.
A safe working environment is one in which the risk of employee injury is eliminated or controlled as much as possible. Third parties must be held liable for hazards created by unsafe machinery and materials. They have a duty to make employees aware of worksite dangers, to train them in proper safety procedures, and to provide them with the necessary equipment to shield them from workplace accident and injury.
Contact the Orlow Firm Today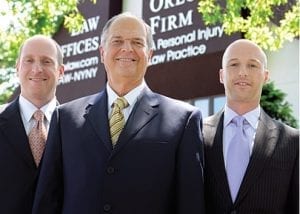 Our firm operates four New York City offices, making us easily accessible to all NYC clients. Also, we offer free initial consultations, handle cases exclusively on a contingency fee basis and can come to you if you cannot come to us.
To contact us, call (646) 647-3398.