New York City Pedal Misapplication Lawyers
With the slew of automobile recalls making the news in recent months, pedal error or "pedal misapplication" has begun to attract more media attention. Pedal misapplication occurs when the driver presses the gas pedal rather than the brake pedal.
In April a 40-year-old San Diego resident, Miguel Rodriguez, suffered 10 broken ribs, a collapsed lung, fractured pelvis, broken right arm and a crushed right shoulder after being struck by an elderly driver. In one of the worst cases of pedal misapplication a few years earlier, an 86-year-old killed 10 people and injured 63 when he pressed the wrong pedal and his car crashed through an outdoor market.
"I get these cases maybe one week, and three the next week," San Diego police Detective Dan Wall said. "They're usually hitting several cars or several people, dealing with very rapid acceleration, flying through the back side of a garage, driving through the front of a post office, a bank, a convenience store, a restaurant, a fast-food store."
Aging Drivers More Likely To Misapply Pedals
While pedal misapplication can happen to anyone, the Insurance Institute for Highway Safety states that drivers over the age of 85 are 10 times more likely to cause a fatal car accident than a 50-year-old traveling the same distance. "As we get older, our neurological processes slow down. Our vision and reaction time slow down," said Dr. Peter Rosen, director of the Sharp Memorial Hospital Rehabilitation Center's Driving Performance Lab. "The conduction rate at which neurons fire slows, so that our brain function slows. Brain function determines driver fitness – that is 99 percent of it."
Medications, diabetes, dementia, heart bypass surgery, sleep apnea, loss of feeling, decreased motor skills and orthopedic shoes all help contribute to pedal misapplication by elderly drivers.
By the year 2030, the National Safety Council predicts more than one in 5 drivers will be over the age of 65. While each state has individual testing requirements, 71 percent of adults polled by the NSC believe there should be mandatory driving tests for drivers over the age of 70, with 33 percent supporting certain mandatory restrictions such as curbs on nighttime and long-distance driving.
Research Into Unintended Acceleration
In 1989, the National Highway Traffic Safety Administration (NHTSA) concluded that the incidents of unintended acceleration by the Audi 5000 were mostly caused by pedal misapplication and not an electro-mechanical defect in the vehicle. In a 1980s study conducted by General Motors, 60- to 70-year-olds were six times more likely to complain about pedal failure than 20- to 30-year-olds.
More recently, in March of 2010, the NHTSA reported that a head-on crash involving a Toyota Prius in Harrison, N.Y., was likely caused by pedal misapplication. The 56-year-old driver was found to have depressed the accelerator 100 percent at the time of collision, and there was no indication of brake application after checking the automobile's event data recorder or "black box."
Often when a driver misdiagnoses a problem and hits the accelerator rather than the brake, the driver repeats the incorrect action over and over in an attempt to fix the problem. Psychologist Chris Wickens calls it the "preservation response," when an individual under sudden intense stress simply repeats the same action over and over despite negative results.
Contact A New York City Lawyer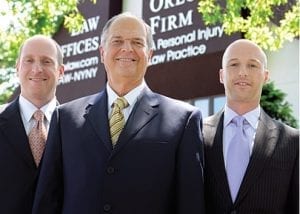 If you or a loved one is injured in a pedal misapplication auto accident, it is best to contact a local car accident attorney to learn about your options.