New York City Broken Bone Lawyers
Compensation in New York City for Broken Bone Injuries
A broken bone or fracture can leave you with steep medical bills, lost time from work, severe pain and suffering, and a wide range of other hardships. If your broken bone injury was caused by the careless or negligent actions of another, you have the right to pursue compensation for the losses you have suffered.
NYC Bone Fracture Injury Liability Lawyers
Insurance companies often try to limit compensation for broken bone injuries, downplaying the severity of the damages. While some broken bone injuries are minor and heal relatively quickly, some are far more severe.
Compound fractures, crushed bones, and other serious broken bone injuries may require:
Reconstructive surgery
Plates and pins
Physical therapy
Occupational therapy
Our attorneys have the experience, skill and resources to determine the true value of your claim, and how your injury will affect you today and in the future. We are prepared to help you obtain the financial resources you need to pay for your expenses and move on with your life.
Contact The Orlow Firm's Broken Bone Lawyers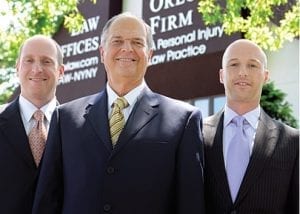 Have you or a loved one suffered a fracture due to another person's careless actions? At The Orlow Firm, we have extensive experience helping people who have suffered broken bone injuries in car accidents, slip-and-fall accidents and other personal injury accidents. We are committed to helping you obtain justice and compensation for the losses you have suffered. Contact our law firm today to speak with an experienced New York City personal injury attorney. Call (646) 647-3398 or send us a message online to schedule a free consultation.