New York City Police Misconduct Lawyers
Legal Help in New York City Following Police Misconduct
Personal Injury and Civil Rights Legal Help in NYC Since 1981
Police officers, prison officials, sheriffs and other law enforcement officials are employed by the people to keep us safe. In this regard, even those who are suspected of committing a crime enjoy many deserved and important rights in encounters with law enforcement agents.
It is for this reason that the attorneys of The Orlow Firm are passionate regarding the defense of clients who are victims of police misconduct, police abuse, false arrest and malicious prosecution. We have handled scores of cases involving police misconduct across New York City and have recovered multiple high-value sums.
Were you assaulted or beaten by a NYC police officer? Are you living under threats or intimidation from a police officer or investigator? Do you have questions about a possible illegal false arrest or malicious prosecution?
At The Orlow Firm, we offer no-charge consultations regarding potential police misconduct cases followed by knowledgeable counsel and aggressive, results-driven legal representation.
If you have been injured by a police officer in New York or have questions regarding your treatment during a criminal prosecution in NYC, contact a New York City police misconduct lawyer. Call (646) 647-3398.
Often, police misconduct cases involve both personal injury law and broader civil rights law. At The Orlow Firm, we are passionate about both, and this passion drives us to seek a fair and just outcome and deserved compensation.
Clients like our approach. One wrote "You have instilled great qualities in your firm — professionalism and compassion." Another one wrote, "I have great admiration for you and your sons for the way they represent clients in the best legal way."
Police officers need to respect your rights along with everyone else. In fact, because of the power they possess, they are doubly obligated to treat you safely and respectfully. If you need help regarding police brutality, contact our office for a no-charge consultation. Call (646) 647-3398.
Contact the Orlow Firm Today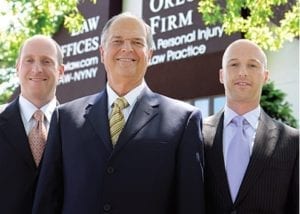 At The Orlow Firm, we offer free initial consultations, handle cases exclusively on a contingency fee basis and can come to you if you cannot come to us.
To contact a NYC police misconduct lawyer at any of our four New York City offices call our central phone number (646) 647-3398.