New York City Toxic Chemical Exposure Lawyers
Helping Clients Injured by Hazardous Materials & Toxic Chemical Exposure in New York City
Schools, employers, day care providers and other parties have a responsibility to provide a safe environment for employees, landlords, students and others. And the manufacturers of household and industrial chemicals have a responsibility to provide warnings, safe containers and other safeguards.
If you have questions about your rights following injuries from toxic cleaners, metals or other hazardous substances, contact the personal injury attorneys of The Orlow Firm for a free initial consultation. Call (646) 647-3398 or contact us online. When you work with our firm, you will deal directly with a partner. We believe you should expect nothing less from your law firm.
We Can Help You Determine Whether You Have a Claim
Claims can arise following injuries from numerous hazardous chemicals and other materials, such as:
Household cleaners
Automotive materials
Arsenic, lead, lead paint, mercury and aluminum
Industrial soaps and solvents
Injuries from toxic chemicals, including burns, lung damage and brain damage, are often obvious and immediate. However, exposure to toxic chemicals can also lead to more subtle injuries that form over a lengthy period of time. Common injuries and symptoms of exposure to hazardous materials include:
Digestive issues like loss of appetite, constipation, nausea and stomach pain
Discoloration of the skin
Excessive tiring or weakness, weight loss or insomnia
Headaches and other pain
Nervousness, irritability, hyperactivity and anxiety
Tremors, numbness and dizziness
We can work with you, treating physicians and medical experts to determine the true cause and extent of injuries caused by toxic chemicals. We believe that you, your family and even your pets have a right to a safe environment and safe products.
Contact the Orlow Firm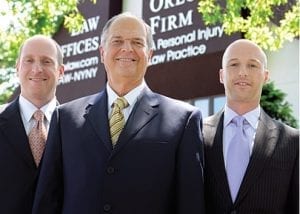 At The Orlow Firm, our lawyers truly care for each of our clients. We treat each case as the most important case we have, which helps us get you the results you deserve.
Contact us for experienced personal injury legal representation. We offer free initial consultations and operate four offices across New York City for your convenience. We can go to you if you cannot come to us.
Call (646) 647-3398 or contact us online.