New York City Defective Construction Equipment Lawyers
Have you been injured by defective construction equipment in New York City?
All companies want to maximize profits. One way companies do this is by controlling costs. Sometimes those "costs" come in the form of safe equipment, well-maintained workplace machines and orderly, well-supervised construction sites. Sometimes, companies' efforts to increase profits result in improperly maintained equipment that can cause injuries to you or the wrongful death of someone you love.
The Orlow Firm can provide you with experienced, caring counsel after a construction accident caused by defective equipment. We have obtained significant verdicts and settlements for our clients, and we know that each case is different. We give our clients the care and attention that they deserve.
Don't accept anything less than the personal attention you deserve when you need maximum damages for your case. Call (646) 647-3398 or contact The Orlow Firm online to schedule a free consultation.
Accountability for Unsafe Construction Equipment in NYC
Our philosophy is to provide respectful and responsive service while also providing aggressive and knowledgeable representation. Were you injured by:
A vehicle in need of repair?
A defective scaffold, ladder, saw, nail gun or crane?
A workplace machine or power tool with the safety guard removed?
Supervisors should not suggest that you remove safety features to improve efficiency, and employers should regularly inspect all equipment and make necessary replacements and repairs. Machinery should not be deemed safe until it stops working; it is unsafe when it needs attention and repair.
If you have been injured by defective construction equipment, our attorneys can help. We can refer you to an experienced, competent workers' compensation attorney, and we can provide caring, experienced representation for claims against third parties whose negligence contributed to your accident. These third-party claims may be filed against someone other than your employer or co-worker, and they may result in significantly more compensation than workers' compensation alone.
Contact The Orlow Firm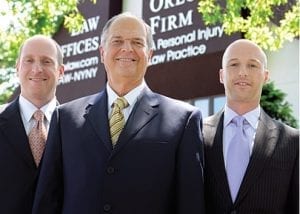 For more information regarding your possible right to a third-party claim for injuries suffered in a construction accident, contact The Orlow Firm. We offer free initial consultations and operate four offices across New York City for your convenience. We can go to you if you cannot come to us.
To contact a NYC construction accident lawyer at The Orlow Firm, call (646) 647-3398.