New York City Electrical Accident Lawyers
Helping Injured Construction Workers in Electrical Accidents in New York City Since 1981
When you have been seriously injured in an electrical accident on a construction site, you need to make certain that someone is aggressively pursuing your right to receive compensation for medical care, pain and suffering, and lost wages. If you have lost a loved one due to electrocution, you need a lawyer who can help your family receive the compensation it deserves from all available sources.
NYC electrical accident attorneys of The Orlow Firm can provide the caring and diligent representation you and your family need following a construction site accident. Call (646) 647-3398 or contact us online to schedule a free consultation with a construction accident lawyer.
Types of New York City Electrical Accidents
Our law firm represents clients who have been seriously injured in many types of electrical accidents, including those involving:
Faulty wiring
Defective equipment and power tools
Contact between ladders and wiring or power lines
Weather- and precipitation-related shocks or electrocution
Contact between power lines and construction tools or equipment
Contact between live wires and saw blades or other power tools
We are prepared to represent electricians, wirers and a broad range of other construction workers injured by electricity.
New York Construction Worker Electrocution Attorneys
As accomplished personal injury lawyers, we are recognized for our skill in handling third-party claims. Third party-claims can be filed against owners, contractors, subcontractors and other negligent parties that are not your employer or a co-worker. Our lawyers do not handle workers' compensation claims, but can refer you to a qualified workers' compensation lawyer to handle that aspect of your claim.
Since 1981, we have successfully recovered many millions of dollars in compensation on behalf of construction workers injured in accidents.
Contact The Orlow Firm Today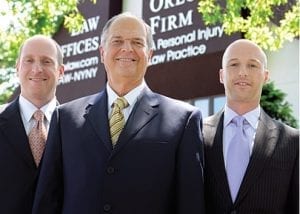 For more information regarding our firm and your rights under the law, contact NYC electrical accident attorneys at The Orlow Firm. We offer free initial consultations and operate four offices across New York City for your convenience. We can go to you if you cannot come to us.
To contact a lawyer, call (646) 647-3398 or send us an online message.