New York City Back Injury Lawyers
New York City Back Injury Lawyers Serving NYC
Even if a back injury is not initially severe, torn discs or injured vertebrae can result in medical complications that make it difficult to work or engage in normal physical activity. At the personal injury law office of The Orlow Firm, our attorneys work with experienced medical professionals, physical therapists, and back experts in establishing the nature and scope of our client's injuries.
Realizing insurance companies will try and downplay a back injury or argue complications are due to a pre-existing condition, The Orlow Firm involves medical experts from the very start of a case. Using medical records and expert medical opinions, our lawyers address self-serving claims by insurance doctors that attempt to justify a reduced or denied claim regarding our client's back injury.
Kinds of Back Injury Our New York City Clients Have Suffered
The law office of The Orlow Firm works to recover compensation for clients suffering from the following kinds of back injuries sustained in a car wreck, construction accident, pedestrian knockdown, or slip and fall accident:
Herniated disc
Crushed vertebrae
Lower back injury
Torn ligaments
Fractured spine
Complications and Quality of Life Issues from Back Injuries
Back injuries typically involve either injury to the muscle and tendons or injury to the spinal column. Complications can arise when an injury fails to heal properly or when damage involves the permanent loss of mobility. In both cases, qualify of life is affected as injury victims may be unable to do the things they normally do or work.
When necessary, our attorneys create day-in-the-life videos in order to explain how a back injury has affected our client's ability to do normal, everyday activities. We make sure jurors understand how our client's life has been changed, how it affects their family, and what their prospects are for returning to work.
Contact NYC Back Injury Attorneys at The Orlow Firm Today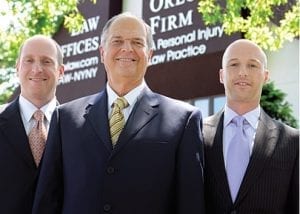 If you've suffered a back injury due to someone else's negligence, contact New York City back injury attorneys at The Orlow Firm today to schedule a free consultation and learn how we can help you. We have the experience and resources needed to help back injury victims recover the compensation they need and deserve. To schedule a free consultation, call (646) 647-3398 or contact us online.