Queens Nursing Home Abuse Lawyers
Queens Lawyers Representing Nursing Home Abuse and Negligence Victims
Asserting the rights of victims of nursing home negligence and abuse in Queens County and throughout New York
The care of the elderly requires constant attention to physical, emotional, and social well-being. When you place your loved one in the care of a nursing home, you trust that your loved ones are being attended to with meticulous attention to all nutritional, medical, and psychological needs. Unfortunately, due to overcapacity and understaffing of many nursing homes, patients continue to suffer neglect and even abuse while under the supervision of nursing homes. At The Orlow Firm, our attorneys have experience representing the victims and families of nursing home abuse and neglect.
Abuse and neglect while under the care of a nursing home facility can be catastrophic, even fatal. If your loved one has suffered, assert your rights to prevent future abuse.
Many nursing home patients are unable to move without assistance and require attention and assistance with movement to prevent painful and dangerous bed sores. When a nursing home facility fails to properly manage and care for patients, consequences can be life altering, even fatal. If you or your loved one has suffered from nursing home abuse or neglect, please contact our attorneys as soon as possible.
Our nursing home negligence and abuse attorneys are experienced with all of the following:
Nursing home abuse
Nursing home neglect
Medication error
Nutrition
Improper support
Falls
Broken limbs
Muscle strains
Physical and sexual abuse cases
We will collect the necessary evidence for your case, including medical documentation, witness statements, and expert opinions. It is critical to obtain evidence as soon as possible to preserve its integrity and ensure that it is available for trial. Our attorneys will take every necessary step to ensure your success in or out of the courtroom. At The Orlow Firm, we are aggressive advocates on behalf of nursing home abuse and negligence victims and families. We will strive to see you and your family compensated for any injuries you have suffered.
Nursing Home Abuse Lawsuit Fee Arrangement
At The Orlow Firm, we take all cases on a "contingent fee" basis. A contingent fee means that the attorneys are paid only at the time when, and if, they recover money damages for the client. A contingent fee thereby allows an injured person with little or no financial resources to obtain competent legal assistance. At the time recovery is obtained, the attorneys' fee is a percentage of the award in the case. If there is no recovery, there will be no attorneys' fees.*
Types of Nursing Home Abuse and Negligence
Despite the fact that loved ones are always on the lookout for nursing home abuse, this remains a major issue in the Queens County as well as other parts of New York State.
There is no concrete reason as to why nursing home abuse happens. What we do know is that this continues to be an issue. Furthermore, there are cases in which people never gets the help they need.
There are many types of nursing home and elder abuse, including but not necessarily limited to the following:
Physical abuse. According to the Department of Health and Human Services, physical abuse is defined as follows:


"Physical abuse is defined as the use of physical force that may result in bodily injury, physical pain, or impairment."Common types of physical abuse include shaking, shoving, pushing, beating, hitting, burning, and kicking.
Sexual abuse. Any non-consensual sexual contact can be considered sexual abuse.
Emotional abuse. This includes any type of pain, anguish, or distress placed upon somebody through nonverbal or verbal acts. This can entail threats, insults, humiliation, intimidation, and harassment.
Neglect. When individuals, such as nursing home staff members, fail to or refuse to provide care based on their obligations, it can be considered neglect.
No type of nursing home abuse or neglect should go unnoticed. While the person who is being abused may not always be in the position to report the abuse, others, such as family members, can step forward. In the event that abuse is suspected, a personal injury attorney can answer questions and provide information on the victim's legal rights.
The Many Forms of Nursing Home Abuse
Nursing home abuse has become a major problem throughout the state of New York, as well as in many other regions in the United States. Any type of nursing home abuse is serious, as this can lead to both physical and psychological injuries. When people move into a nursing home, they expect to be treated with the highest level of care at all times. Their loved ones are also anxious that they receive the best care, as they are often left with their hands tied with no other available treatment options for their elderly and physically fragile relatives.
There are many reasons why nursing home abuse has become a problem, ranging from under-staffing to overcapacity. Additionally, some facilities do not hire qualified employees, which can lower the standard of care.
Here are some of the most common forms of neglect and abuse in nursing facilities:
Bed sores
Inadequate Nutrition
Improper support
Medication errors
Falls
Broken limbs
Muscle strains
Sexual abuse
Physical abuse
Many of these injuries, such as bed sores, can and should be prevented by the nursing home staff. Daily inspections, frequent repositioning or special diets can all be strategies to employ to prevent decubitus ulcers (bed sores) from forming and that, left untreated, can lead to even more serious health issues down the road.
Nursing Home Slip and Fall Injuries: Not Your Typical Slip and Fall Claim
When we place an elderly loved one in a nursing home we do it mainly because he or she cannot be safely and properly cared for at home. We expect the nursing home staff to carefully evaluate the needs of each individual resident, to develop a specific and comprehensive care plan, and to make sure that the plan is implemented and revised as needed. One of the nursing home's major responsibilities is to prevent each resident from sustaining an injury by falling.
Ordinary slip and fall claims are brought against property owners who fail to maintain safe premises or who place an object or substance on the property which causes a person to injure himself by slipping and falling. In such cases, the key task of the personal injury lawyer is to determine the condition, object or substance that caused the fall. Nursing home slip and fall cases are far more complicated.
Special Considerations For Nursing Home Slip And Fall Claims
Attorneys who handle slip and fall claims against a nursing home must be aware that elderly people are especially vulnerable to serious injury by falling. The lawyer must also be skilled at analyzing all possible causes of the fall, including the actions, or the failure to take action, by the nursing home staff. In traditional slip and fall cases, failure to show the specific defect, object or substance on the property that caused the fall will, most likely, terminate the case unsuccessfully. In contrast, a nursing home's liability in such claims may stem from a variety of factors, many of which are not readily observable or understood.
According the Centers for Disease Control, nearly 16,000 people die each year as a result of falling. Close to 2 million are treated in emergency rooms for slip and fall injuries. Falls are the second greatest cause of accidental death in persons 65 to 84 and the leading cause of accidental death for those 85 and older. For most senior citizens, a fall can be devastating. Osteoporosis, or brittle bone disease, can heighten the risk of serious fractures, especially hip fractures that can be fatal or severely disabling. In addition to broken bones, an elderly person who falls may suffer critical or fatal damage to the brain or spinal cord.
In nursing homes, more than 60 percent of residents will fall at some point during their stay. Some of them will experience repeated falls. At times, a fall can be easily prevented-by properly drying wet or slippery floors, installing good lighting, fixing holes or other defects on the property, maintaining wheelchairs and bed rails, and following safety procedures when transferring residents from beds to wheelchairs. At other times, the cause of the fall is harder to pinpoint. An attorney who is knowledgeable about nursing home injuries will know to look for other ways in which the facility and staff may have been negligent, especially in terms of how they address the particular needs of individual residents.
Consult An Attorney
A nursing home slip and fall case is different from any other claim in which an individual sustains an injury by falling. To understand the rights of a loved one who has been hurt by a fall in a nursing home, it is important to consult an attorney who is knowledgeable and experienced in this type of claim.
Dehydration: A Clear Sign of Nursing Home Neglect
Dehydration is one of the most common signs that someone at a nursing home is being neglected. Oftentimes, the home's staff might be too busy or unwilling to provide a resident with the water and liquids that they need. It is not uncommon for nursing home abuse to be spotted when a resident is rushed to the hospital for dehydration.
If you or a loved one has suffered abuse at a nursing home, you might have a legal case, and be owed compensation. New York nursing home abuse attorneys at The Orlow Firm can help.
Nursing Home Slip and Fall Cases: Choosing Your Attorney Wisely
Nursing home litigation requires the expertise of an attorney familiar with issues faced by elderly residents in long-term care facilities. A slip and fall injury in a nursing home involves vastly different facts, causes and legal analysis than an ordinary slip and fall case. In a nursing home lawsuit, your choice of attorney can make a crucial difference in whether or not the litigation is successful.
Falls in nursing homes are all too common and pose a continuing threat to the life and health of elderly residents. Attorneys experienced in nursing home litigation know that slip and fall investigations may go well beyond questions of whether the floor was wet or the lighting was dim. Often, to determine whether the facility is negligent, lawyers must carefully review the nursing home's practices and procedures, especially as they relate to individual residents.
Assessing Risk
Upon admission to a nursing home, every resident undergoes a full risk assessment. The resident's fall history is a critical aspect of this evaluation. Therefore, in determining whether a nursing home is liable for injuries caused by a resident's fall, the initial inquiry might focus on whether the facility staff knew that the resident was more likely to experience a fall. It is the responsibility of nursing home staff to prevent falls and their resulting injuries. Failing to do so can be nursing home neglect or negligence.
Accordingly, once the resident's risk assessment is completed, staff must develop a comprehensive care plan that highlights the resident's risk of falling and strategies for addressing it. Details of the plan must be communicated to staff and properly implemented. The plan must also be regularly reviewed to see if it is being followed and whether it is in need of revision.
Fall prevention strategies may include handrails, proper bed positioning, and an individualized toileting program. To alert nurses when the resident gets up, a chair or bed alarm can be vital. Restraints, on the other hand, tend to increase the likelihood of falling. Regular exercise can help to improve a resident's mobility, but activity programs must be carefully tailored to individual abilities.
How Nursing Home Falls Happen
Many nursing home falls occur because of preventable hazards like slippery floors, poor lighting, improperly adjusted beds and poorly maintained wheelchairs. In addition, a resident's functioning might be impaired by over-medication, improperly fitted shoes and lack of walking aids such as walkers or handrails.
Nursing home hallways and common areas should be well-lit and have easy access to handrails. Carpeting that is tightly woven will help to avert slips and falls. Bathrooms should be equipped with raised toilet seats, grab bars, and non-skid flooring. Staffing levels must be adequate, allowing for quick response to calls for assistance.
Choosing An Attorney
If you are thinking of filing a lawsuit because a loved one has been injured by falling in a nursing home, your choice of attorney is important. Consulting a lawyer whose experience is limited to ordinary slip and fall cases is not sufficient. Nursing home cases require the expertise of a lawyer well-acquainted with facility practices such as risk assessments and comprehensive care plans. It is also essential that the lawyer be familiar with the conditions and hazards that can contribute to nursing home slip and fall injuries.
Should I feel guilty for suing a nursing home?
Feeling a bit of responsibility, or even guilt, for a loved one's abuse or neglect at a nursing home is common. Question such as "Would this not have happened if I'd been taking care of them?" are common. The Queens nursing home abuse attorneys at The Orlow Firm understand that these feelings are perfectly normal when dealing with nursing home abuse. They are experienced, knowledgeable attorneys ready to take on your case.
Contact The Orlow Firm Today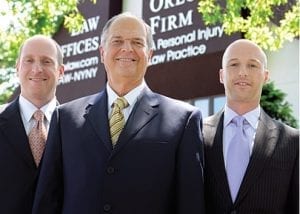 If your loved one has been injured because of nursing home abuse or negligence, you may have a legal claim. Our qualified and experienced lawyers offer a confidential and honest assessment of your case. Contact Queens nursing home abuse attorneys at The Orlow Firm for a free consultation regarding your amputation case. Our lawyers will handle all aspects of your case to protect your rights. We will come to you if you cannot come to us.
Call (347) 318-1491 today.
* Case expenses are advanced by our firm and are reimbursed to the firm by the client at the conclusion of the case.