New York City Rape Victim Lawyers
Have You Been the Victim of Rape or Sexual Assault Because of Security Failures in New York City?
Building owners have a responsibility to provide a reasonably secure environment for people who live in their building or come onto their property. Negligent security in private and public buildings can result in easy access for criminals. If your life has been affected by rape or sexual assault in a privately owned building or in public housing owned by the New York Housing Authority, our firm can help.
The Orlow Firm provides experienced legal representation to victims of rape or other sexual assault in NYC. Please call our firm today at (646) 647-3398 to schedule your free confidential case evaluation. Or, you may submit a contact form and we will be in touch with you soon.
Experienced and compassionate attorneys helping you
The Orlow Firm offers representation to people who have been assaulted in apartments, parking garages, public housing, offices and other buildings throughout New York City. Where the criminal justice system often fails victims of assault, our lawyers can obtain a measure of justice through the civil court system.
You do have rights. To preserve your rights to compensation, it is important to seek legal help as soon as possible following your assault. You have only 90 days to file a notice of claim against the City of New York or the New York Housing Authority to preserve your right to bring a lawsuit.
Fee Arrangement
At The Orlow Firm, we take all cases on a "contingent" basis. A contingent fee means that the attorneys are paid only at the time when, and if, you recover money damages. A contingent fee allows an injured person with little or no money to obtain legal assistance. At the time recovery is obtained, the attorneys' fee is a percentage of the award in the case. If there is no recovery, there will be no attorneys' fees.*
* Case expenses are advanced by our firm and are reimbursed to the firm by the client at the conclusion of the case.
Contact the Orlow Firm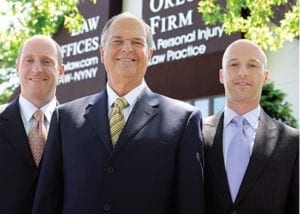 If you suffered a sexual assault due to negligent security, our qualified and experienced New York City sexual abuse lawyers will offer a confidential and honest assessment of your case. We will come to you if you cannot come to us.
Contact our office today by calling (646) 647-3398.