New York City Police Brutality Lawyers
Protecting New York City Residents Rights Against Police Brutality
Excessive Force • Prison Injuries • Civil Rights Violations
"Power corrupts and absolute power corrupts absolutely."
— Lord Acton
When the police and prison guards overstep their bounds of authority, what recourse is there for the victims? Can the police just get away with violating a person's civil rights?
Police officers and prison guards are employed to protect us from harm, not mete out physical punishment. The law protects all citizens, including people accused or convicted of crimes, from violence at the hands of the police.
The attorneys of The Orlow Firm provide strong representation to victims of police brutality throughout the New York City metropolitan area, including The Bronx, Brooklyn, Manhattan, and NYC. Our attorneys are thoroughly versed in the laws concerning police brutality and prison guard abuse.
If you are a victim of police brutality or prison guard abuse, it's important to contact a lawyer immediately. You may only have ninety days from the date of the incident to file a notice of claim against the police department in order to preserve your right to sue.
Police Officer Assault and Excessive Force in New York City
A police misconduct complaint involving the use of excessive force is unforgivable. The fact that the same people we trust to guarantee the safety and security of the public, can also abuse that trust by causing physical harm to the members of that public, is appalling.
By law, a police officer may use only as much physical force as is needed to control a situation. If a person involved in a routine traffic stop or arrest is respectful and cooperating with the officer, no physical force should be required.
Our police brutality lawyers represent victims of beatings or injuries:
In routine stops, arrests, or detentions
Following the conclusion of a pursuit
As the result of racial profiling of minority groups or other types of racism
In jails or prisons by guards or other security personnel at Riker's Island and other New York jails and detention facilities
By housing police, hospital security officers or school safety officers.
While every case is unique and your results may vary, our firm has won jury trials and obtained compensation settlements in many New York City police brutality cases.
Contact The Orlow Firm Today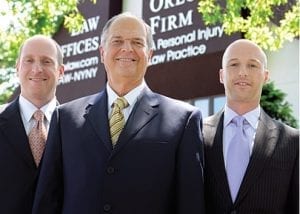 You do have rights! Contact The Orlow Firm to talk to a NYC police brutality attorney. Our qualified and experienced lawyers will offer a confidential and honest assessment of your case.
Call us at (646) 647-3398 or message us online.