New York City Negligent Security Lawyers
Have You Been Injured Due to Negligent Security in New York City?
Property owners bear a responsibility to make their premises safe for visitors. When they fail to do so by providing inadequate security, lighting and other safety features, visitors are vulnerable to theft, assault and other crimes, as well as personal injury accidents.
If you or someone close to you has been injured due to negligent security, the attorneys at The Orlow Firm are here to stand up for your rights. We have more than 120 years' combined experience handling personal injury claims and a proven record of success winning favorable settlements and jury awards for people like you.
When you bring your case to our New York City law firm, you will always work with a named partner. We believe you should expect nothing less from the firm who handles your injury case. Contact us today to speak with an experienced NYC negligent security attorney. Call (646) 647-3398 or contact us online.
Negligent Security in New York City Can Lead to Serious Accidents
Negligent security can lead to serious accidents for many reasons. Examples of negligent security include:
Inadequate lighting
Broken door locks
Faulty surveillance cameras
Absent security personnel
Our lawyers have extensive experience handling premises liability claims and have the investigative resources to find the facts in these cases. We will work to identify the cause of your injury as well as all liable parties. We are dedicated to helping you achieve full and fair compensation for the losses you have suffered.
We have obtained numerous verdicts and settlements for clients who were injured due to negligent security. For example, we obtained $325,000 for a woman who was raped while entering a New York City Housing Authority building to go to work.
Assault And Negligent Security At NYC Night Clubs And Bars
Social establishments, such as night clubs and bars, are required to provide adequate and trust-worthy security — no one should feel threatened during what is supposed to be a fun night out with friends. Inadequate or negligent security can refer to failure to break up an argument before it escalates into a physical altercation, or even security using excessive force to control patrons — if any of these happen, a New York personal injury attorney can help the victim.
Contact Our NYC Negligent Security Lawyers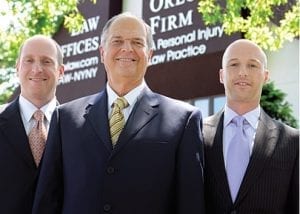 Have you or a loved one suffered a serious personal injury due to negligent security? If so, contact our New York City negligent security attorneys online for information regarding your legal rights. We offer free initial consultations, and our cases are handled on a contingent fee basis. This means that we charge attorney fees only when we obtain compensation for our clients.
For more information about negligent security claims, see our article "Premises Security Litigation: A Growing Field of Personal Injury Practice."
You may also call (646) 647-3398.