New York City Forklift Accident Lawyers
Forklift Accidents in New York City are Common but Serious
Forklift accidents are among the most common construction site accidents in NYC. Each year, more than 20,000 workers suffer serious injuries in forklift-related accidents in the country. Many of these workers sustain lifelong injuries. More than 100 workers a year are killed in forklift-related accidents.
If you have been injured or lost a loved one in a forklift accident, you can count on The Orlow Firm for experienced, dedicated representation. We truly care for each of our clients, and we treat each case as the most important case we have. We can refer you to a competent workers' compensation attorney and evaluate your accident for potential claims against negligent third parties.
The personal injury attorneys at The Orlow Firm have successfully represented victims of forklift accidents at construction sites throughout the New York City area, including New York City, Brooklyn, Manhattan and Queens. Call (646) 647-3398 or contact us online.
How Forklift Accidents Happen
Employers that are more concerned with getting the job done quickly than with getting the job done safely may overlook safety standard requirements. Pushing a machine such as a forklift past its safety limits is bound to result in an accident. These are several types of construction forklift accidents:
Tipping over: Carrying an excess load can cause a forklift to tip over, often crushing construction workers in the path of the overloaded material or the forklift driver if a "rollover protection system" has not been installed.
Falling debris: Construction site forklifts should have an "all falling object protection system" installed to protect the operator from falling objects.
Driver ejection: Driver seats should be equipped with seat belts, arm rests and "grab handles."
Hitting pedestrians: Often, a worker fails to notice an oncoming forklift if it does not have an automatic signal alarm installed.
Elevating workers: A forklift is not made for the purpose of elevating workers, who may fall if an operator loses control.
Unsafe driving conditions: Low visibility, narrow or congested pathways and obstructed intersections are all unsafe conditions to drive in.
A forklift is an invaluable tool that requires proper training and licensing to operate, and attention needs to be paid to its maintenance and working environment.
Holding Negligent Companies Accountable
The Occupational Safety and Health Administration (OSHA) has a standard training and evaluation program that all forklift operators must complete before they can operate a forklift. Employers that ignore the OSHA guidelines may be found negligent if an accident or injury happens. It is the employer's responsibility to notify untrained and unlicensed employees that forklifts are off limits.
If you have been injured in a forklift or other construction accident, you should contact a lawyer as soon as possible to discuss your rights to compensation. Even if you are receiving workers' compensation, you may be eligible for additional damages if your injuries were caused by a third party, which is someone other than your employer or a co-worker. Settlements and verdicts awarded to victims of construction accidents caused by third-party negligence are typically much greater than workers' compensation.
Contact Our New York City Forklift Accident Lawyers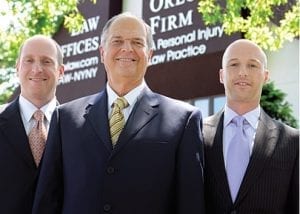 Our qualified and experienced lawyers will offer a confidential and honest assessment of your case. All fees to the law offices of The Orlow Firm are strictly on a contingent basis, meaning that attorney fees are paid only if we recover money damages for the client. Expenses are also reimbursed at the end of the case.
Call (646) 647-3398 or send us a message online to arrange a free consultation with a New York City forklift accident attorney.