New York City Wrongful Death Lawyers
Wrongful Death Lawyers in Queens, Brooklyn, The Bronx and Manhattan
Family members or representatives of an estate of an individual who was killed in an accident may bring a wrongful death action to recover compensation. The estate or surviving family members of any victim who was killed in a fatal car accident, premises liability or construction site accident, or suffered another accidental death may be entitled to compensation.
Wrongful Death Claims in New York: Who's Liable?
Wrongful death claims may be filed in any situation in which one person's negligent acts cause the death of another. This includes motor vehicle accidents, workplace accidents and deaths attributed to dangerous products, for example. Wrongful death actions may be filed against a person, business, company or other organization. For example, if a person is killed by a driver who had too much to drink at the local watering hole, then the victim's family could possibly bring a wrongful death claim against the driver as well as the bar that furnished the alcohol to the driver.
Parties can also file wrongful death actions against a local or state government agency if a government employee is responsible for the death. This includes situations in which a government worker is driving a city-owned vehicle and causes an accident that results in the death of another person.
Wrongful death actions are meant to help family members recover some of the unexpected expenses that may come with a loved one's untimely death, like medical bills, funeral costs and attorney fees as well as other pecuniary losses (i.e. actual monetary losses). Examples of pecuniary losses include loss of future support, loss of future services and loss of parental guidance.
If the decedent is a child, pecuniary losses can be harder to determine, but generally include things such as the parent's current and future loss of the child's assistance and services.
In general, wrongful death claims are not meant to help families recover for their own non-pecuniary losses, sometimes referred to as non-economic damages, like pain and suffering, emotional distress and loss of companionship and consortium.
Who Can File a Wrongful Death Claim in New York?
Only a personal representative of the deceased may bring a wrongful death claim in the state of New York. Usually this is the executor of the decedent's estate, but if there is no executor or if the executor refuses to bring the claim on the behalf of the family, then the family can petition the court to name a personal representative for them.
A cause of action for wrongful death only can be maintained if the decedent would have been able to bring a legal claim for his or her losses against the responsible party had he or she lived. For example, if the decedent was killed in a car accident by a drunk driver, the decedent would have been able to sue the drunk driver for damages had he or she lived. But if the decedent was the drunk driver and died as a result of hitting another person's car, then a wrongful death action generally could not be brought on behalf of the decedent because the decedent's bad acts caused the accident.
A family does not lose the right to bring a wrongful death claim if the person responsible for their loved one's death also dies, whether as a result of the same accident or due to another cause. In these cases, the family can file the wrongful death claim against the responsible person's estate. If the wrongful death claim is successful, then the family will be paid out of the proceeds of the estate as a creditor.
How can a wrongful death lawsuit help?
There is nothing that the law can do to bring back a loved one whose life has been senselessly taken by another person. The law, however, can be used to help hold the responsible party liable for their actions and to help ease some of the grieving family's financial burden.
At The Orlow Firm, our attorneys are sympathetic to the needs of individuals and families facing wrongful death litigation. We know that a legal dispute can be emotional, stressful, and financially burdensome. With our support, you can trust that your case will be handled professionally and effectively. Your family deserves compensation and the right to financial security. Our attorneys will work to see you restored so that you can move on to recovery.
Are there time limits in filing a wrongful death claim in New York?
For more information on pursuing a wrongful death claim, contact an experienced attorney today. Under New York law, families generally only have two years from the date of death to file a wrongful death action.
The Orlow Firm handles wrongful death cases related to all of the following:
Filing a legal claim on behalf of a loved one can be extremely difficult. If your spouse, parent, or child suffered a fatal injury or abuse, you can file a civil action against any party that acted negligently, recklessly, or intentionally in causing those injuries. If your loved one suffered a deadly crash or other fatal accident, The Orlow Firm's experienced attorneys will work with you to secure your financial stability and stabilize your family.
It is imperative that your legal team can support you throughout your wrongful death case. Throughout the legal process, we will remain attentive to your needs and answer any questions that you may have. Whether you want to voice a concern, ask a question, or inquire about the legal process, our attorneys will remain available to you. We work with clients to explore all of their options and alternatives to litigation. While we are effective negotiators, we prepare meticulously to take every case to trial.
How much does it cost to hire a wrongful death lawyer?
At The Orlow Firm, we take all wrongful death cases on a "contingent fee" basis. A contingent fee means that the attorneys are paid only at the time when, and if, they recover money damages for the client. A contingent fee thereby allows an injured person with little or no financial resources to obtain competent legal assistance. At the time recovery is obtained, the attorneys' fee is a percentage of the award in the case. If there is no recovery, there will be no attorneys' fees.*
When Personal Injuries Result in Death: Wrongful Death Cases
Our lawyers have helped victims who have been injured in by work-related

knee injuries

,

traumatic brain injuries

and other accidents throughout New York. We are dedicated to helping each client recover maximum compensation for their injuries.
In general, a wrongful death claim is one in which it is alleged that a person died as a result of another's negligence. The deceased person's surviving relatives, dependents or beneficiaries may bring suit against the responsible party or parties, seeking monetary damages for their losses. Each state has its own wrongful death laws and not every state follows the same guidelines, principles or rules. A personal injury lawyer from The Orlow Firm in Flushing, New York, can advise you on whether you have a valid wrongful death claim and help you pursue that claim against the responsible party or parties.
Wrongful death laws vary from state to state
Some states have "true" wrongful death acts in which the deceased person's survivors or next of kin are entitled to bring a cause of action for their damages resulting from their family member's death. Other states have acts that are more properly called "survival actions." In general, survival actions are brought on behalf of the deceased person for the deceased person's pain, suffering and other damages resulting from the injuries that caused his or her death.
The individuals who are entitled to bring a wrongful death claim also depends on the jurisdiction. Generally, the primary beneficiaries of the person who has died (often the spouse and children) are able to bring a claim, and in some states the parents of the deceased person may be also designated as beneficiaries. In most states, if the deceased person did not leave behind a husband or wife, children or parents, there may be no one who may bring a wrongful death claim.
In many jurisdictions, it is not necessary that the defendant's conduct be the sole cause of death. Even when the defendant's negligence contributes only in part or in tandem with other circumstances to a person's death, liability may still attach.
Wrongful death damages
Types of damages. When a defendant is found legally liable for the death of another, the types of damages that may be recovered can also vary greatly. For example, the plaintiffs in a wrongful death case may be able to recover the deceased person's medical expenses; funeral and burial expenses; lost earnings; and lost benefits (such as pension benefits or medical and health insurance coverage). Additionally, in a few states, the plaintiffs may be able to recover damages for pain and suffering or mental anguish that they experienced as a result of the death as well as punitive damages.
Calculating damages. The method and manner of calculating damages in a wrongful death action can be complicated. This potential complexity is especially true when trying to calculate the monetary loss to which the plaintiffs are entitled. Monetary loss, sometimes called pecuniary loss, generally includes the survivor's lost support, contributions and services of the deceased person. The computations for these damages are typically based on the deceased person's life expectancy and work life expectancy as well as the life expectancies of the beneficiaries and, where necessary, the remaining period of minority of any beneficiaries.
Multiple beneficiaries. In cases where there is more than one beneficiary, the damages will be distributed among those beneficiaries. Most states allocate the damages among the beneficiaries in accordance with their losses. However, in some states the recovery is divided as spelled out in its wrongful death or intestacy laws.
Defenses to liability in wrongful death cases
In general, a defendant is entitled to raise any defenses in a wrongful death action that could have been raised in an action brought directly by the decedent, had he or she not died. Therefore, if the decedent was contributorily negligent in causing his or her own death, the defendant may assert that defense in the wrongful death action. Also, in most states, if the decedent had already recovered damages, such as in a case where the death was not immediate and the decedent was able to bring his own successful personal injury claim, the survivors may not then successfully bring a wrongful death action and recover for the same injury. There are limitations to this prohibition, and in some situations the survivors may still be entitled to bring a wrongful death action in their names.
Contact a New York Wrongful Death Lawyer
When a loved one dies, the complexities of a legal claim against the wrongdoer can be overwhelming. At this already stressful and emotion-laden time, the assistance of an experienced personal injury attorney at The Orlow Firm in Flushing, New York, who can guide surviving family members through the complex legal maze and help secure compensation for their devastating losses, can be invaluable.
Wrongful Death Example: In Police Custody
Diabetic Man Died After 40 Hours in Custody Without Insulin
Settlement: $1,250,000
Case: M.P., as Administratrix of the Goods, Chattels and Credits of A.V. and on Behalf of the Heirs and Distributees of the Deceased, A.V. v City of New York, No. 2742/03
Court: Queens Supreme
Judge: Martin E. Ritholtz
Date: 2/7/2007
Plaintiff Attorney(s)
Adam M. Orlow; The Orlow Firm, Flushing, NY
Defense Attorney(s)
Philip Pizzuot, Assistant Corporation Counsel,
Michael A. Cardozo, Corporation Counsel, New York, NY
FACTS & ALLEGATIONS: At about 8:30 p.m. on September 20, 2002, plaintiff's decedent A.V, 45, an insurer's claims adjuster, was arrested by a fire marshal for allegedly setting off a sprinkler system in a bathroom of New York Downtown Hospital, in Manhattan. A type-1 diabetic, A.V was held in police custody until his arraignment at about 1 P.M. on September 22. After being released and returning to his home, he collapsed while taking a shower. He was transported to a hospital, where he was pronounced dead. A.V.'s sister, M.P., claimed that A.V. died because he did not have access to his insulin during his 40-hour-long detention.
M.P., acting as administratrix of A.V.'s estate, sued the City of New York. The estate alleged that the City's Police Department failed to provide timely, adequate medical care.
M.P. contended that she brought A.V. to his home and tat A.V. indicated that he could treat himself faster than an emergency room could, so there was no reason to go to a hospital. However, M.P. claimed that she did not know whether A.V. ever took his insulin before he died.
The estate's counsel claimed that A.V. was wearing a medic-alert necklace and had a syringe with him at the time of his arrest. He contended that fire marshal Thomas Silvestri confiscated the syringe and took A.V. to a police precinct.
Defense counsel contended that, while in custody, A.F. was seen twice by paramedics. He claimed that A.V. did not express a need to seek treatment at a hospital. He also claimed that a precinct paramedic recommended that A.V. seek treatment at a hospital, but that A.V. refused. Defense counsel produced a waiver to that effect.
In response, the estate's counsel argues that the arresting officer, an emergency medical technician at the precinct, and an emergency medical technician at the booking station all were aware of A.V.'s insulin requirement. He also contended that the waiver was not really a waiver, as it indicated only a waiver of pre-hospital care. He argued that there was no waiver of a trip to the hospital, which was an option on the form that A.V. did not mark off. He further argues that, at the time he signed the waiver, A.V. was not yet in need of insulin. After signing the waiver, A.V remained in custody for another 30 hours.
INJURIES/DAMAGES: death – diabetic ketoacidosis
A.V. died September 22, 2002, at age 45. An autopsy listed his cause of death as diabetic ketoacidosis – a condition that stems from a lack of insulin. The estate's expert endocrinologist determined that A.V. would have died even if he had taken insulin immediately upon his release from custody. The estate sought recover of damages for A.V.'s wrongful death.
PLAINTIFF EXPERT(S)
Conrad Berenson, PhD, labor economics, Woodbury, NY (did not testify)
Henry Branche, general investigations, Massapequa, NY (did not testify)
DEFENSE EXPERT(S)
Fred Goldman, PhD., economics, New York, NY (did not testify)
Loren Wissner Greene, M.D., endocrinology, New York, NY (did not testify)
EDITOR'S NOTE: This report is based on information that was provided by plaintiff's counsel. Defense counsel declined to contribute.
Wrongful Death Lawsuits: Your Legal Rights When a Loved One Dies
There is nothing more terrible or heartbreaking for a parent to experience than the loss of a child. This death becomes even more difficult to understand and make peace with if it happens as a consequence of someone else's bad acts.
Take, for example, the case of Daniel Halliday, a nine-year-old from Kingman, Arizona. Daniel died after the car he was riding in was hit by a pickup truck driven by Tina Michelle Means. Blood tests revealed that Means had a .26 blood alcohol level at the time of the crash. A jury recently sentenced her to 30 years in prison for Daniel's death and civil lawsuits are pending.
In situations such as this, loved ones may consider filing a wrongful death suit.
Contact The Orlow Firm's NY Wrongful Death Attorneys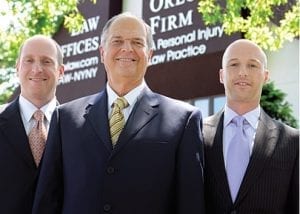 If you have recently suffered an injury or wonder if you have a legal claim, our qualified and experienced lawyers will provide you with a confidential and honest assessment of your case.
We will come to you if you cannot come to us. Se habla español.
Call (646) 647-3398 or contact our offices online to speak to a New York City wrongful death attorney.
* Case expenses are advanced by our firm and are reimbursed to the firm by the client at the conclusion of the case.