New York City Shoulder Injury Lawyers
Lawyers Representing Victims of Shoulder Injuries While Working in New York City
Costs associated with shoulder injuries include both medical expenses and lost wages. Depending on the severity of your shoulder injury, long-term disability may be involved if you are unable to return to the full use of your arm.
When tendonitis, bicep tenodesis, or a torn rotator cuff result in pain, weakness, and the inability to perform certain job functions, employers may ask an employee to file for workers' compensation or FMLA (Family Medical Leave). You may be asked to see your company's insurer's doctor to verify your condition. If the insurance company's doctor believes your injury is due to a pre-existing condition, your benefits and injury claim may be denied.
At the law office of The Orlow Firm, we work with orthopedic specialists and arthroscopic surgeons in establishing the causal relationship between your shoulder injury and your responsibilities at your job. We work to hold your employer accountable for abusive and intimidating techniques that are sometimes used to discourage injured workers from seeking damages and medical benefits.
On-the-Job Shoulder Injuries in NYC
The personal injury attorneys at The Orlow Firm represent clients in shoulder injury cases involving the following:
Rotator cuff tear
Dislocated shoulder
Broken collarbone
Torn shoulder muscles
Torn ligaments
Contact the Orlow Firm Today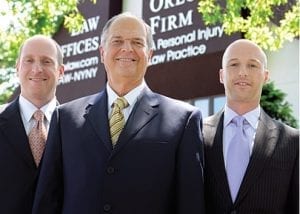 Don't let your employer deny you the benefits you need and deserve. If you're suffering from chronic shoulder pain or from a shoulder injury due to work-related factors, contact the New York personal injury lawyers at The Orlow Firm today to schedule a free consultation to discuss your case. We will get you the maximum amount of compensation for your injuries.
If you need assistance finding a specialist to evaluate your shoulder injury, we can help you find an experienced doctor or surgeon near you. Call (646) 647-3398 to schedule a free consultation.