New York City Clergy Abuse Lawyers
New York City Priest and Clergy Abuse Lawyers
Being sexually abused by a member of a trusted community such as a priest or clergy member, or in a foster home, is devastating on many levels. Most victims are traumatized throughout their lives and must undergo significant therapy to assist in managing their day-to-day lives. Unfortunately, many victims are not able to confront their abusers until they are much older and realize the affects of the abuse. If you suffered physical or sexual abuse, you need an experienced NYC sexual abuse lawyer who can assert your rights against an abuser and the church that did nothing to stop the abuse.
Some church organizations are notorious for concealing sexual abuse. Let our attorneys give you a voice in confronting your abuser and the organization that failed to protect you.
Contact an experienced New York City clergy abuse attorney today for an initial consultation and evaluation of your case.
Child sex abuse
Clergy abuse
Priest sexual abuse
Concealment of abuse
Foster home abuse
In confronting your abuser and the organization that concealed the abuse, you have the opportunity to prevent future victims.
At The Orlow Firm, we will aggressively pursue claims against your abuser as well as any other parties or organizations that concealed the abuse. Any third parties who neglected to protect you may also be liable for concealing the abuse or failing to act. Our attorneys are sensitive in addressing the issues of our clients. We will handle your case professionally and discreetly. In speaking with our trusted attorneys, you can feel safe in disclosing the harms of your abuse. Your case will be handled with dignity and respect for your family and immediate circumstances. For professional and effective legal service regarding physical, sexual and clergy abuse, please contact our firm. We have represented clients in Brooklyn, Queens, NYC, Manhattan, and throughout New York for over 25 years.
Fee Arrangement
At The Orlow Firm, we take all cases on a "contingent fee" basis. A contingent fee means that the attorneys are paid only at the time when, and if, they recover money damages for the client. A contingent fee thereby allows an injured person with little or no financial resources to obtain competent legal assistance. At the time recovery is obtained, the attorneys' fee is a percentage of the award in the case. If there is no recovery, there will be no attorneys' fees.*
Contact the Orlow Firm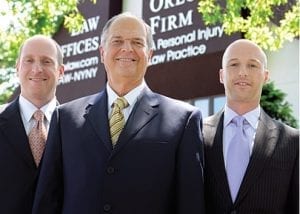 If you have suffered physical, sexual and clergy abuse and are interested in speaking with a lawyer about a potential claim, contact our office to schedule a confidential and honest assessment of your case.
We will come to you if you cannot come to us.
Call (646) 647-3398.
* Case expenses are advanced by our firm and are reimbursed to the firm by the client at the conclusion of the case.