New York City Nail Gun Accident Injury Lawyers
Helping Construction Workers Injured by Nail Gun Accidents in New York City Since 1981
Like many advances in technology, the increased use of nail guns has increased productivity at construction sites. It has also exposed workers to new dangers from accidents involving this equipment.
If you have been involved in a nail gun accident at work, the construction injury attorneys at The Orlow Firm can help you obtain the compensation you need for your financial losses and pain and suffering. We have more than 30 years of experience representing clients throughout New York City who have suffered injuries as a result of the negligence of another.
For experienced and caring legal help in pursuing a claim for nail gun accidents and injuries, contact The Orlow Firm for a no-charge consultation. Call (646) 647-3398 or contact us online.
Common Injuries From Nail Guns
Nails from a nail gun can cause serious injuries. Common injuries and mishaps include:
Severe infections due to unclean nails, outdoor storage of nails and rust
Eye injuries
Puncture injuries resulting from nails passing through sheetrock and injuring workers on the other side of the wall
Often, rusty nails cause injuries that become much worse when not treated. If you have experienced a nail gun injury, it's important to seek medical attention, as well as legal assistance, even if the injury happened weeks or months ago and has only recently worsened.
Contact The Orlow Firm Today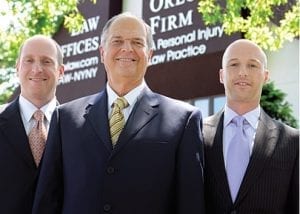 If you have been injured in a nail gun accident while working on a construction site in NYC, you may be eligible to pursue compensation from both workers' compensation and third-party claims. Our New York City nail gun accident lawyers focus on helping clients pursue compensation through third-party lawsuits, which are filed against parties other your employer. They are usually filed in addition to a workers' compensation claim.
To learn more about how we can help you, contact us for a free initial consultation. We operate four offices across New York City for your convenience. We can go to you if you cannot come to us.
Call (646) 647-3398 or contact us online. Se habla español.