New York City Traumatic Brain Injury Lawyers
The Orlow Firm is a personal injury law firm in New York with experienced brain injury lawyers that fight for maximum compensation. We have offices in Queens, Brooklyn, The Bronx and Manhattan. The Orlow Firm's TBI lawyers offer free case evaluations and always work on a contingency basis, meaning if we don't win, there's no fee. Call now to speak to our top rated traumatic brain injury lawyers to discuss your options. (646) 647-3398
New York City Traumatic Brain Injuries Lawyer
The cost of a traumatic brain injury involves more than medical expenses and lost wages – it also involves a cost in terms of quality of life. In order to determine the financial impact of a traumatic brain injury, the law office of The Orlow Firm consults medical experts, economists, and life care planners.
We take into consideration costs associated with future surgery, physical therapy, pain medication, in-home nursing care, and lost wages. We also present "before" and "after" photos in order to explain to jurors the impact of your injuries on you and your family.
When insurers attempt to underestimate costs associated with traumatic brain injuries or try to avoid paying compensation for pain and suffering, we provide detailed medical evidence specifying current and future needs created by our client's brain injury.
Accidents that cause Brain Damage and Paralysis in NYC
The law office of The Orlow Firm represents clients suffering from brain damage or spinal cord injuries due to the following:
Car accidents
Truck accidents
Motorcycle accidents
Pedestrian accidents
Bicycle accidents
Construction site accidents
Hypoxic birth injuries
Assessing Responsibility – Investigating the Causes of an Accident
It's not uncommon for negligent employers, property owners, or car and truck drivers to deny responsibility for causing an accident. At The Orlow Firm, our personal injury attorneys consult experienced accident investigators, safety consultants, design engineers, and other professionals in exposing negligence and unsafe conditions that cause accidents.
Although OSHA standards apply somewhat differently in New York than elsewhere, safety regulations determine everything from how scaffolding must be handled to what sorts of safety gear must be used to how work sites are to be secured. We expose safety violations and hold employers and property owners financially accountable for our client's injuries.
The Facts About Traumatic Brain Injury
Each year, approximately 1.7 million people suffer a Traumatic brain injury. Traumatic brain Injury, or TBI, is a sudden trauma to the head that often leaves a person incapacitated. A person can also suffer from TBI and feel fine, only to experience symptoms later. Regardless of whether traumatic brain injury symptoms manifest immediately or a bit later, the injury can have a devastating effect.
Common Causes of Traumatic Brian Injury
More than half of those who suffer from TBI are injured in a bicycle or motor vehicle accident. Dangerous workplaces, such as those in the construction industry, are also a common source of brain injuries. Victims of violent crimes such as rape, assault and battery also suffer head-related trauma. Youth, amateur and professional athletes routinely suffer from TBI. Even a mild blow to the head, such as those suffered by youths in baseball, soccer or peewee football can cause TBI.
TBI: Diagnosis and Treatment
Diagnosing a TBI can often be difficult, but there are some common symptoms to look for. Mild TBI victims often experience: fatigue, headaches, visual problems, memory loss, loss of concentration, sleep issues, mood problems, depression and seizures. Those suffering with severe TBI endure problems with their cognitive abilities, vision, speech, memory, hearing, smell, taste, coordination and mood.
Once diagnosed, treatment can range from complete immobilization to medication to cognitive rehabilitation therapy, which teaches techniques to improve brain functions. New York Mets left fielder Jason Bay struck his head against the outfield wall during a game in July. It took a month of rest before his symptoms, including headaches, subsided and he was able to begin training again.
Severe forms of TBI can lead to permanent injury and even death if they aren't treated.
TBI: Prevention
Many instances of traumatic brain injuries are avoidable. Motorists should ensure they use their seatbelt, have an equipped airbag and drive defensively. Construction workers should use all available safety equipment, wear fluorescent colors to increase visibility and follow all safety protocols. Athletes should wear protective headgear.
Someone who is severely injured and diagnosed with TBI may be left with high medical expenses, lost wages and permanent disability. A victim should contact an experienced personal injury lawyer for a free and confidential consultation. A reputable attorney will discuss any legal rights to recovery that you may have.
Contact The Orlow Firm's TBI Lawyers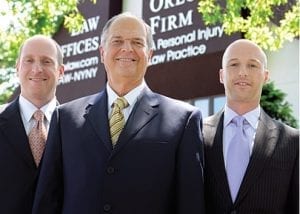 We understand the financial and medical issues involved in traumatic brain injury cases. We also understand the long-term effects of a severe concussion or coma in children and adults. While the consequences may not be immediately evident, what appears to be a mild or moderate head injury can result in memory loss, chronic pain, cognitive impairment, and neurological disorders.
To schedule a free consultation to discuss your case, call (646) 647-3398 to speak with a New York City traumatic brain injury lawyer at The Orlow Firm today.