Queens Car Accident Lawyers
Experienced Queens Car Accident Lawyers & Legal Help Since 1981
When you have been seriously injured in a car accident, how do you make sure you will have the money you need to make up for lost income and pay for medical care? Our car accident lawyers in Queens can help. When your quality of life is diminished because of a car accident, we can help you pursue a fair result from an insurance company that will likely be unwilling to make a fair settlement offer.
The Queens car accident lawyers of The Orlow Firm have handled car accident injury cases occurring in Queens for a combined 100-plus years and have the skills, legal knowledge and commitment to clients' rights needed to effectively handle your case.
Contact a Queens car accident lawyer at The Orlow Firm at (646) 647-3398 following a car, truck, motorcycle, bus, subway, taxi, bike or pedestrian accident.
Car accident lawsuits almost always involve unexpected and hard-to-manage legal complexities. Crashes involving city-owned vehicles involve different time limits for filing. Taxi companies carry different liability coverage. And accidents involving commuter cars and other "regular" vehicles can involve both the other driver's insurance and your own underinsured and uninsured motorist coverage.
We can speak with you and assess your potential claim at no charge, then provide aggressive, caring and results-driven legal help. We have handled hundreds of car accidents occurring in Queens and across all of New York City. Through negotiations and litigation The Orlow Firm have recovered many millions of dollars in compensation for injured clients. For a no-charge consultation with Queens car accident lawyers, contact our office at (646) 647-3398.
How common are car accidents in Queens?
Car accidents in Queens are the third leading cause of death according to a 2014 study. With that being said, the vast majority of car accidents in Queens, NY are not fatal. Even small accidents with lighter damage can still cause injury that necessitates compensation for the victims. Sometimes these injuries aren't even apparent till weeks or months after the crash occurred. Simply put, the human body was not designed to withstand the rigors of a car accident including whiplash, displaced discs, broken bones and much more.
Once you've sought medical attention for your injuries, it's imperative that you contact a qualified and experienced car accident attorney to seek compensation for your losses. Often times, an insurance company will fail to take into account all of the various aspects that victims of car accidents are forced to deal with including but not limited to medical costs, loss of wages, rehabilitation, pain and suffering at the time of the accident and future pain and suffering.
Our experienced car accident lawyers at The Orlow Firm know how to negotiate with these tough insurance companies and make them compensate you for all of your damages.
What are the most common causes of car accidents in Queens?
According to the open data available online, the most common causes of car accidents in New York include:
Speeding or driving above the speed limits.
Failing to adhere to the rules of the road.
Thankfully with the public awareness campaigns over the last couple of decades drunk driving has been reduced significantly. However now a major cause for concern has become distracted driving. This used to just be noisy kids in the background or having the radio on too loud, but now unfortunately it means people are operating their mobile device while behind the wheel. When seeking compensation for a car accident, The Orlow Firm has the experience and know-how to lay out the facts of your case to convince insurance companies, arbitrators, juries and judges alike that you deserve the maximum compensation afforded to you by the laws of New York.
What are the New York State laws when it comes to car accidents?
Each state has different laws and New York laws are very clear but sometimes confusing. Let's break down the laws and how they apply to car accidents.
No-Fault Car Accidents Laws in NY
No-fault was introduced in the 1970s to make sure that everyone received treatment and medical attention for injuries suffered in motor vehicle accidents. What no-fault boils down to is simple, your coverage or your insurance must pay for your expenses regardless of who was at fault for the accident. This sounds good in theory, but sometimes it doesn't allow you to get maximum compensation for your injuries and suffering. This is when having experienced Queens car accident lawyers can greatly help your situation.
Does no-fault apply to me in New York?
The accident must have occurred in New York.
The vehicle must be registered in New York.
The insurance for the vehicle must be from New York or from a company who is registered to do business in New York.
You must be the driver or the passenger of the insured vehicle or if you were a pedestrian or cyclist struck by the vehicle.
No-Fault law only covers cars, buses, trucks and taxis.
Who no-fault doesn't cover in New York:
Scooters and Vespas depending on the motor size.
When does no-fault not apply even if I fit the above definitions?
No-fault only covers personal injury, so if there's property damage involved in the accident then no-fault wouldn't apply. Furthermore, if your injuries are considered "serious injuries' then you are allowed to make a claim against the negligent party. Serious injuries are defined as such:
Significant disfigurement
Permanent body organ (or member) disability
Significant body function (or system) limitations
Full disability for at least 90 days
When necessary, The Orlow Firm will use our experience and knowledge to present your case in a way that demonstrates your injuries meet these qualifications in order to get you the maximum amount of compensation afforded by law.
Contact the Queens car accident lawyers at The Orlow Firm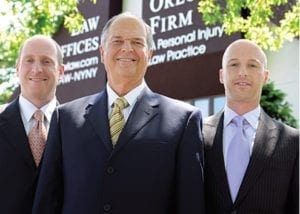 At The Orlow Firm, we also offer free initial consultations, handle cases exclusively on a contingency fee basis and can come to you if you cannot come to us.
To contact an attorney, call (646) 647-3398.