Brooklyn Personal Injury Lawyers
Brooklyn Personal Injury Lawyers & Legal Help Since 1981
Bringing Over 120 Years of Combined Personal Injury Law Legal Experience to Brooklyn Residents
At The Orlow Firm, our Brooklyn personal injury lawyers have helped injured clients in NYC since our firm was founded over 30 years ago.
Were you injured traveling to or within Brooklyn? Did police use excessive force when handling or arresting you? Perhaps you were you injured at a Brooklyn retail establishment or while working at a construction or industrial site? Whatever grounds your case may fall under, our Brooklyn personal injury lawyers can help.
Our attorney team has over six decades of experience handling personal injury claims all across New York City. In our practice, we handle almost all types of accidents and injuries, from escalator and elevator accidents to truck crashes and from broken bones to wrongful death. Some of the more frequent cases we handle include:
Have you been injured in Brooklyn or in any New York City borough? Contact our Brooklyn personal injury attorneys of The Orlow Firm at (646) 647-3398.
Having handled thousands of personal injury cases, our Brooklyn personal injury lawyers are highly efficient and skilled in investigating on-the-job, dangerous property and motor vehicle accidents, and all other types of accident and injury claims. Our diligence and experience have resulted in many millions of dollars in compensation for injured Brooklyn-resident clients. For a no-charge consultation regarding your potential claim, contact one of our four New York City offices.
What areas do you service in NYC?
We have offices in Queens, The Bronx, Brooklyn and Manhattan. We are licensed to practice throughout the state of New York. In NYC, we have dealt with cases from every corner of every borough.
Why Hire The Orlow Firm?
Choosing the right personal injury attorney in Brooklyn can be crucial to the outcome of your case. At The Orlow Firm we pride ourselves on on the following:
Free consultations and Case evaluations.
When you contact us one of our secretaries will take down the basics details of your case in order to open a file. Once the file has been opened you'll be transferred to a partner to further discuss your case and determine the next steps to move forward. By speaking directly to a partner about your case, you can be assured that you're receiving qualified and experienced advice from your very first phone call.
No win, no fee. 100% Contingency basis.
Of course we would never charge you anything upfront, but another important aspect about our firm is that in the course of your case there may be additional costs along the way such as hiring an investigator or expert testimony. We will never ask you to foot these bills we will only reimburse our expenses once you have won your case.
We work for you!
We consider it our job to help you make informed decisions throughout the process. We will offer guidance and advice at every decision, but we will never pressure or make you feel obligated to make a decision that you do not feel right about. If you want a quick settlement, we can handle that for you. If you want to go to trial, we'll be there every step of the way.
We are a family firm.
We are a father & sons team. Steven Orlow started the firm in the early 1980s and has been practicing personal injury law ever since. His two sons, Adam & Brian, joined him and we all work together closely. Each case that our firm handles has three sets of eyes on it throughout the process to make sure nothing is missed.
Personal Injury FAQ:
Q: How do I know if I have a personal injury case?
A: First, you must have suffered an injury to your person or property. Second, you should consider whether your injury was someone else's fault. It is not always necessary to have a physical injury to bring a personal injury lawsuit — some personal injury claims can be based on a variety of nonphysical losses and harms. In the case of an assault, for example, you do not need to show that a person's action caused you actual physical harm, but only that you expected some harm to come to you. Similarly, you also may have a case if someone has caused injury to your reputation, invaded your privacy or intentionally inflicted emotional distress upon you.
Q: How soon after I am injured do I have to file a lawsuit?
A: Every state has certain time limits, called "statutes of limitations," which govern the amount of time you have to file a personal injury lawsuit. If you miss the deadline for filing your case, you may lose your legal right to damages for your injury. Consequently, it is important to contact a lawyer as soon as you suffer or discover an injury.
Q: What should I bring with me for my meeting with a lawyer?
A: You should provide a lawyer with any documents that might be relevant to your case. Police reports, for example, may contain eyewitness information and important details about the conditions surrounding the event from which your claim arises. Copies of medical reports and bills from doctors and hospitals will help demonstrate the extent and nature of your injuries. Information about the insurer of the person who caused your injury is extremely helpful, as are any photographs you have of the accident scene, damaged property and your injuries. The more information you are able to give your lawyer, the easier it will be for him or her to determine if your claim will be successful. If you haven't collected any documents at the time of your first meeting, however, don't worry; your lawyer will be able to obtain them in his investigation of your claim.
Q: What if a person dies before bringing a personal injury lawsuit?
A: If a person injured in an accident subsequently dies because of those injuries, that person's heirs may typically recover money through a wrongful death action. Also, even if a person with a personal injury claim dies from unrelated causes, the personal injury claim survives in most cases and may be brought by the executor or personal representative of the deceased person's estate.
Q: What is negligence?
A: The critical issue in many personal injury cases is just how a "reasonable person" was expected to act in the particular situation that caused the injury. A person is negligent when he or she fails to act like an "ordinary reasonable person" would have acted. The determination of whether a given person has met the "ordinary reasonable person" standard is often a matter that is resolved by a jury after presentation of evidence and argument at trial.
Personal Injury – An Overview
Our lawyers have helped victims who have been injured in by work-related knee injuries, traumatic brain injuries and other accidents throughout New York. We are dedicated to helping each client recover maximum compensation for their injuries.
Personal injury lawsuits are filed by people (or their representatives) injured due to the negligence of someone else. The injury may be either physical or emotional, and it can arise from a variety of sources or types of conduct. Some of the most common types of personal injuries that give rise to legal liability on the part of the wrongdoer include slip and fall, automobile accidents, assaults and battery, medical malpractice, and defective product injuries. The general goal of personal injury actions is to determine who was responsible and to compel them to compensate the injured person for the losses sustained. If you or someone you know has been injured by the careless actions of another, contact a personal injury attorney at The Orlow Firm in Brooklyn, New York, at once to find out how we can help you preserve your rights.
Personal injury damages
Personal injury lawyers can help ensure that their clients receive the damages to which they are entitled by law. Some of the items for which injured parties are legally entitled to compensation include lost wages, past and future medical expenses, damages for both physical and emotional pain and suffering, and damages for disfigurement. Sometimes, a close family member of the injured person, such as his or her spouse, may also be entitled to damages. This award is often referred to as loss of consortium damages, which is intended to compensate the loved one for the loss of the injured or deceased person's services and companionship.
Other kinds of damages that may be awarded, depending on the laws of the state where the lawsuit is brought and the facts of the particular case, include hedonic damages, which are awarded to compensate the plaintiff for the loss of enjoyment of activities that he or she once valued but can no longer participate in as a result of the injuries suffered. In addition, punitive damages may be awarded when the defendant's conduct was particularly egregious and the court or jury determines that the defendant should be punished by paying an amount above and beyond the plaintiff's actual damages. Punitive damage awards may also serve to deter others from engaging in similar wrongful conduct.
"Legal causation" of personal injuries
Not every injured plaintiff is entitled to recover damages for the injury he or she sustains. Besides the injury, the plaintiff must also establish, through credible and relevant evidence, that the defendant is legally responsible for his or her injuries. The plaintiff must present proof of causation both in terms of actual causation and proximate (legal) causation. Actual causation is determined by literal cause and effect. Whether legal causation is established depends on the facts and circumstances of the particular matter in question.
In some personal injury actions, legal causation may be established if the plaintiff can show that the defendant engaged in intentional conduct. This means that the wrongdoer intentionally or purposefully harmed the plaintiff or knew that the conduct in which he or she engaged gave rise to a substantial likelihood that harm would result.
Negligence and strict liability
Other personal injury actions are based on a looser concept of fault called negligence. Under the negligence theory, a defendant is held liable for the results of action, or inaction, when an ordinary person in the same position should have foreseen that the conduct would create an unreasonable risk of harm to others. Still other types of personal injury actions are based on strict liability, which is a no-fault system under which liability may be established regardless of the fault of the various parties, including the injured party. Strict liability may be applied in products liability cases, such as when a manufacturer or seller of a defective product puts that product into the hands of consumers and users of the product are injured.
The defendant can be held liable for actions taken or for actions not taken. A driver who fails to stop at a red light and hits another vehicle and injures the other driver or passengers is liable based on her negligent acts. A property owner who fails to clear the ice and snow from the front steps of a business open to the public may be liable for his inaction if a patron falls and breaks her leg when attempting to enter the premises.
Defenses to liability in personal injury vases
In some situations, the defendant's conduct, while questionable, may not give rise to damages. If, for instance, a plaintiff knowingly and willfully chooses to encounter a known hazard, then the law provides that he or she has assumed the risk of injury and therefore the defendant should not be liable. The assumption of the risk theory may apply also in a case in which the plaintiff engaged in a friendly game of tackle football and another player broke his arm; in such a case, the plaintiff may be unable to recover for his injuries because he knew of the risks inherent in the game and willingly chose to encounter them.
The following are possible defenses to personal injury claims.
Statute of limitations. Statutes of limitations are laws setting forth the period within which the lawsuit must be initiated.
Sovereign immunity. Sovereign immunity provides that certain government officials are immune from civil liability for their official conduct.
Intentional misuse. Injuries caused by a plaintiff's intentional misuse of a product may be a defense to liability in a products liability case.
Contributory or comparative negligence. Contributory or comparative negligence exists where the plaintiff's own conduct caused or contributed to his or her injuries.
A personal injury lawyer can explain these and other defenses and determine whether they apply to a particular case.
Contact a personal injury lawyer
Personal injury actions often require a lawyer's careful examination of the surrounding facts and circumstances to determine whether the defendant is legally responsible for the plaintiff's injuries. A personal injury attorney at The Orlow Firm in Brooklyn, New York, can look at the facts of your case and determine whether you have a legally valid claim, how soon you must act to preserve your rights, the damages to which you may be entitled and whether you may be entitled to some type of financial benefits before your lawsuit is even resolved. Additionally, in many personal injury cases, you owe no legal fees unless and until the defendant pays the damage award.
Preparing to Meet with Your Personal Injury Attorney
If you have been injured in an accident (car or other type of accident), or have suffered an injury due to the non action, negligence or actions of another, it is important to see an attorney to discuss your possible claim. Before you see your attorney, gather documents and other information you may have regarding the incident that caused your injury. Bring this information with you to give to your personal injury attorney. You may have different types of information depending on your situation, or your attorney may ask you to bring additional information not listed in this checklist.
General information and documentation related to your injury may include:
Name and address of the ambulance company
Name and address of the hospital you were taken to
The dates of the incident that caused your injury
The dates that you were taken to the hospital/emergency room
Names and addresses of the doctors or chiropractors that examined you
Names and addresses of any witnesses to the incident that caused your injury
Dates you were unable to work due to your injuries
Name and contact information for your insurance company, insurance agent and any other insurance representatives you have talked to
A copy of your accident report
Copies of written statements
Applicable insurance policies: homeowners, renters or automobile
Health insurance documents, including your policy or coverage information
Disability insurance documentation
Veterans insurance policy
Any other documentation, including hospitalization
Copies of any correspondence you have had with your insurance company, including letters, emails, etc.
Medical bills
Receipts for anything you've had to buy or fix because of your injuries
Documentation of lost wages
If your injuries are due to a car accident, there may be other types of documents and information you should bring to your attorney, including:
Proof of premium payments, including statements, bills, cancelled checks, receipts or anything you have to show that your insurance premium has been paid
Information exchanged at the time of the accident, including names, contact information from the other party or witnesses or any correspondence with any of the parties after the accident
Information you gave the police at the time of the accident, including the police report
Traffic tickets related to the accident
Photographs of any property damage caused by the accident
Any statements you may have given to your insurance company or the other party's insurance company
Medical records
Records of any psychological/psychiatric care or treatment needed due to the accident
Any information you may have about the other driver in the accident, pedestrians or witnesses, including name, address, phone number, make/model/color of car, license plate number, insurance company, location at the time of the accident and/or description of what they saw
Date, time, location of the accident
Call The Orlow Firm at (646) 647-3398 for a free consultation and case evaluation.
Reasons to Hire a Personal Injury Attorney
Our lawyers have helped victims who have been injured in by work-related knee injuries, traumatic brain injuries and other accidents throughout New York. We are dedicated to helping each client recover maximum compensation for their injuries.
Motor vehicle accidents cause the loss of time, property, health and even life. Such accidents occur because of elements including driver error, negligence, manufacturing defects and dangerous weather. No matter what the specific cause or result, a crash can turn a normal day into a prolonged struggle. Speaking with a personal injury lawyer can help you sort out your rights, your options and your future. Contact The Orlow Firm in Brooklyn, New York, today to schedule a consultation with an attorney.
At-fault, negligent and aggressive drivers
When you have been in an auto accident, you may have a sense of who caused it. Issues of fault, however, can be complicated by who acted when and which laws governed the situation. If the other driver was negligent, you may have to prove that the driver breached a duty of care to you and that the breach caused your damages. The assistance of an attorney can be immensely valuable at this time, whether you are battling an insurance company, seeking compensation for your injuries or defending yourself in court.
Sources of information on the accident include police reports, witnesses and the condition of the vehicles involved in the accident. They could reveal what happened and why.
Actions, on the part of either driver, that may have contributed to the accident include:
Failure to stop at a red light or stop sign
Driving under the influence of alcohol or drugs
Failure to compensate for dangerous weather conditions
Driving above or below the posted speed limits
Driver distraction caused by a cell phone, passenger, radio or another source
Failure to obey traffic laws regarding turn signals, rights-of-way and other rules
Sometimes the at-fault driver is more than merely negligent; he or she may have acted recklessly or even intentionally. A reckless driver acts with conscious disregard for the probable consequences of his or her actions. Road rage incidents often involve reckless behavior, and they can escalate into intentional behavior. Road rage in particular can be extremely dangerous, leading to injuries and criminal charges. Generally, aggressive drivers are a serious threat to safety. Speeding and taking other risks contributes significantly to highway and other driving fatalities.
Drunk driving
Drunk driving can lead to both criminal charges and a civil lawsuit. Additionally, the business that sold alcohol to the drunk driver may be held liable if it served the driver when he or she was visibly intoxicated. This, however, does not take any responsibility from the driver who drove while intoxicated. If you have been in an accident involving alcohol or drugs, seek the help of a personal injury attorney who will explain your legal options.
Auto accidents not caused by the drivers
Sometimes, no matter how carefully you drive, you cannot avoid an accident. In certain cases, a vehicle's manufacturing or design defect causes the accident or makes it worse. This might happen if, for instance, the brakes on your car fail or the airbag does not deploy when it should. The law of products liability applies in this situation, protecting consumers when products create an unreasonable risk of harm. If a product defect caused your injuries, you may have a case against the designer, manufacturer or distributor of the product.
Another responsible party could be a mechanic who improperly repaired the car that caused the accident. Both the mechanic and the mechanic's employer could be liable in such a case.
Finally, poorly maintained roads, messy and confusing construction, unclear signage, improperly designed roads and similar problems can contribute to an accident. Government entities are typically responsible for the roads and highways; they may, therefore, be liable for accidents caused by the above factors. Special rules, however, apply to lawsuits against government entities; a lawyer will be able to explain them in detail.
Selecting a Personal Injury Attorney
Our lawyers have helped victims who have been injured in by work-related knee injuries, traumatic brain injuries and other accidents throughout New York. We are dedicated to helping each client recover maximum compensation for their injuries.
In civil court, assault and battery are intentional torts, and can be the basis of a personal injury lawsuit against the person who commits them. Assault and battery are different from other personal injury claims in that the person accused of assault or battery must have acted with the intent to cause a certain result — either fear in the victim or physical contact to the victim's person. It is important if you or a loved one has been the victim of an assault or battery that you contact a knowledgeable, skilled personal injury attorney at The Orlow Firm in Brooklyn, New York, to discuss your legal options.
Assault and battery
While the torts of assault and battery are similar and can go together in one lawsuit, it is important to note that they are actually two separate claims. A defendant can commit an assault without a battery, and vice versa. However, a battery usually includes an assault, and an assault can be characterized as an attempted or uncompleted battery. In general terms, an assault occurs when a person is placed in apprehension or fear of a harmful or offensive contact, and a battery occurs when that harmful or offensive contact actually occurs.
It is important to note that a battery plaintiff does not have to show that the defendant meant to cause physical injuries through the harmful or offensive contact. This means that even in a situation where the defendant was playing a practical joke and meant to scare the plaintiff, he or she can still be liable for battery as long as harmful or offensive contact resulted. What's more, the defendant himself or herself does not have to come into contact with the plaintiff in order to have committed a battery, nor does the contact need to be applied directly to the plaintiff, as long as the defendant supplied the force that caused or resulted in contact with plaintiff.
Damages in assault and battery cases
Damages in assault and/or battery cases may be compensatory or punitive. Compensatory damages are intended to compensate you for the losses you suffered as a result of defendant's conduct. They may include your medical expenses and lost income, damages for pain and suffering, and loss of your future earning capacity. Punitive damages are intended to punish the defendant and to deter others from engaging in similar behavior. The availability of punitive damages may differ from state to state, but, when available, punitive damages typically require proof that the defendant acted with "malice" (out of hatred or ill will) and set out to deliberately injure the victim.
Contact a personal injury lawyer
If you or a loved one was injured as a result of an assault and/or battery, it is important that you speak with an attorney to ensure that your legal rights are protected. Contact The Orlow Firm in Brooklyn, New York, to schedule a consultation with an experienced personal injury attorney to learn about your legal rights and options.
What Steps Does a Personal Injury Case Go Through?
In the last post we discussed how a personal injury case begins. This week we will go into more depth about the different stages a personal injury lawsuit progresses through as it develops. Oftentimes people are frustrated with the length of time it takes to reach a resolution in a case. The steps below attempt to shed some light on why the process takes some time.
Intake
First, before a personal injury case can even be filed by your attorney, you will have to meet with him or her to discuss your case. During this intake meeting you will want to explain what happened in your accident, and show the attorney any relevant documents. If the attorney decides to take your case you will be asked to sign a retainer or representation agreement. The lawyer may also discuss next steps in your case such as conducting an investigation before actually moving forward with filing a lawsuit.
Beginning Litigation
As discussed in last week's post, to formally begin a lawsuit your attorney will file a complaint. This document identifies the parties, outlines your case against the defendant, discusses the relevant facts and the relief you are seeking.
Discovery
Generally parties are required to disclose all relevant documents and facts to the opposing party before trial so there are no surprises. The disclosure of this information is done through a process called "discovery." Discovery includes written questions, requests for documents, and depositions. The process of exchanging all this information can take a significant amount of time.
Settlement or Trial
Most personal injury claims are settled between the parties before reaching a court trial. Arriving at a settlement agreement acceptable to both parties, however, may require lengthy negotiations.
If a case does proceed to trial it must go through several phases before a verdict is reached. These include: jury selection, opening statements, testimony of witnesses and cross-examination, closing arguments, instructions for the jury and jury deliberation.
Even after a settlement or verdict is reached additional steps may need to be taken to collect a judgment. A judgment may also be appealed to a higher court.
The stages above provide just a brief outline of the stages of a personal injury case. There are many other aspects to the development of a case. Since every case is unique it is best to discuss your claim with an attorney who can provide further guidance on the process your case will go through.
What to Expect in a Personal Injury Lawsuit
Establishing a Personal Injury Case
In order to prevail on your personal injury claim, you must be able to prove to the court that the defendant (responsible party) is responsible for your injuries. In most cases, this is done by showing the defendant's negligence. To do this, the elements of negligence must be established based on the facts of your case. The elements of negligence are as follows:
Duty of care — A reasonable person is held to a legally recognized duty of care. This means, a person must prevent reasonable harms to another by their actions or inactions.
Breach of duty — A defendant breaches this duty by failing to meet the standard of care. Based on the circumstances, this could mean a failure to warn, failure to keep the plaintiff safe or by behaving in a way (conduct) that caused the plaintiff's injury.
Causation — Causation is often the most difficult element to prove. The defendant must have been the direct or proximate cause of the plaintiff's injuries. Generally, a "but for" test is used to show causation. The plaintiff's injuries would not have occurred if it hadn't been for the defendant's behavior (action or inaction).
Damages — The plaintiff must show that due to the defendant's breach, he or she suffered harm and incurred loss.
Damages in a Personal Injury Case
If each element is established in the plaintiff's case, the court may award damages for losses. Most damages awarded are compensatory in nature. They are to compensate the plaintiff for actual losses incurred or suffered. The court will consider many factors when determining the amount of compensatory damages. The factors may vary depending on the specific facts of your case. Some examples may be pain and suffering (physical and/or emotional), lost wages, medical expenses, future medical treatment, loss of consortium, loss of household duties, loss of quality of life, disfigurement, disability and loss of parental guidance.
Furthermore, some jurisdictions may award punitive damages, in addition to compensatory damages. The judge or jury may award the plaintiff punitive damages to punish the defendant for his or her conduct. Usually, the conduct must have been especially atrocious or shocking. These type of damages are also intended to discourage others from the same behavior. The type and availability of damages may depend on the facts of your case and the applicable law in your state. A personal injury attorney, in your area, will be able to tell you more about damages.
Contact a personal injury lawyer
It is important to take prompt action when you have been in a motor vehicle accident. This will help you preserve your rights and seek proper compensation. Contact The Orlow Firm in Brooklyn, New York, to schedule a consultation with an experienced motor vehicle accident lawyer.
Personal Injury Glossary
Assault and Battery — Assault and battery are often heard together; however, they are separate legal claims. An assault is putting a person in immediate fear (or apprehension) of physical injury or offensive contact. Battery is actually using force to harm another individual.
Birth Injuries — Birth injuries are injuries to a baby, which occur during delivery and are caused by medical negligence. The type of injuries and degree of negligence may differ from case to case. Usually, birth injuries occur in situations where a medical professional failed to act or responded inadequately to a complication or medical condition during a birth.
Catastrophic Injuries — Catastrophic injuries are severe physical injuries that require extensive medical treatment and are often long lasting or permanent in nature. These injuries may result from any kind of accident and may affect all body systems.
Exploitation of a Nursing Home Resident — Exploitation takes place when an individual misuses a resident's personal property or funds for his or her own benefit. Often this is done without the owner's consent, through threats, coercion, deception or undue influence. Thus, the resident is taken advantage of.
Licensee — The term licensee is often used in a slip and fall case. A licensee is someone who enters the property of another with the owner's consent. The owner owes such a person a duty to keep the property safe and to warn the licensee of any known dangers. If the landowner fails this duty and the licensee is injured, he or she may have a claim against the owner for those injuries.
Medical Malpractice — Medical malpractice occurs when a doctor, nurse, dentist or other medical/healthcare worker performs his or her duties in a manner that is negligent. This means, the worker's action or non-action does not meet the industry standard of care and, as a result, the patient suffers injury.
Soft Tissue Injuries — Soft tissue injuries may be caused from a single event or over a period of time (repetitive activity). Generally, soft tissue injuries are bruises, sprains or strains to the muscles, ligaments or tendons. Injuries to the internal organs or bones are not considered soft tissue injuries.
Workers' Compensation — Workers compensation refers to benefits given to workers who have been injured during the course of their employment. Employees may receive compensation for costs, such as, lost salary, medical treatment, job rehabilitation and other types of compensation depending on the situation. In return, the employer cannot be sued by the employee for the same injuries/incident. Such benefits are required for all United States workers by state and federal law.
Wrongful Death — A wrongful death claim is a legal action by survivors of a deceased individual. In order to have such a claim, the loved one's death must have been caused by the wrongful actions of another party. The decedent's loved ones, bringing the claim, may receive monetary compensation for their losses, as determined by the court. Every state has a wrongful death statute; however, the laws may differ greatly.
Personal Injury General Resource Links
U.S. Consumer Product Safety Commission (CPSC)
The CPSC is charged with protecting the public from unreasonable risks of property damage, serious personal injury or death from consumer products such as toys, cribs, power tools, cigarette lighters and household chemicals that pose a fire, electrical, chemical or mechanical hazard or can injure children. The CPSC's website includes recalls and product safety news, information on reporting an unsafe product and more.
National Safety Council (NSC) Fact Sheet Library
National Safety Council (NSC) fact sheets are resource guides that provide statistics, tips and suggestions to make life safer. This website contains over 80 topics in four categories: agricultural safety, healthy living, environment safety and road safety.
Tort Law: An Overview
This website, maintained by the Legal Information Institute (LII) at Cornell University Law School, provides general information about tort law, including discussion of intentional torts, negligent torts and strict liability torts.
Dog Bite Liability
This website contains an article from the Insurance Information Institute (III) about dog bite liability. The article discusses dog owners' liability, recent developments in state legislation, important court decisions and other related issues.
Products Liability Law: An Overview
This website, maintained by the Legal Information Institute (LII) at Cornell University Law School, provides general information about the law of products liability as well as links to federal and state judicial decisions and statutes concerning products liability.
Damages: An Overview
This website, maintained by the Legal Information Institute (LII) at Cornell University Law School, provides general information about the law of damages, including discussion of compensatory and punitive damages.
National Center for Statistics and Analysis (NCSA)
One of NCSA's guiding principles is to provide easy public access to its data concerning the causes and injury outcomes of crashes. To that end, the NCSA makes available through its website crash research and investigation data, statistics and analysis.
Motor Vehicle and Equipment Recalls
This website, provided by the Office of Defects Investigation (ODI), allows users to search its database of motor vehicle, equipment, child safety seat and tire recalls.
Contact The Orlow Firm's Brooklyn Personal Injury Lawyers Today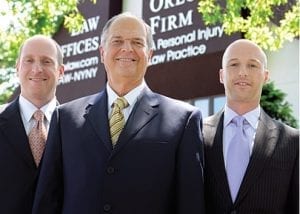 At The Orlow Firm, we also offer free initial consultations, handle cases exclusively on a contingency fee basis and can come to you if you cannot come to us.
To contact our firm, call (646) 647-3398.
308 Atlantic Ave
Brooklyn NY 11201
(646) 647-3398
Fax: 718-544-6485