New York City Distracted Driving Lawyers
Have You Been Injured by a Distracted Driver?
Distracted driving significantly increases the risk of an accident. Those injured by distracted drivers face many hardships including steep medical bills, lost time from work and diminished quality of life. If you or a loved one has been injured by a careless, distracted driver, it is important to have a knowledgeable New York car accident law firm standing up for your rights.
At The Orlow Firm, our attorneys have close to 70 years combined experience helping people who have been injured in car accidents and other personal injury accidents. We offer experienced legal advocacy and attentive client service to our valued clients.
Contact our law firm today to speak with an experienced New York distracted driving laws attorney.
New York City Texting & Driving Accident Lawyers
Distracted driving takes many forms, from driving while texting and talking on the cell phone to eating, drinking and changing the radio station.
The dangers of distracted driving are well documented. A recent study by the National Highway Traffic Safety Administration (NHTSA) tells us the following:
Sixteen percent of fatal crashes in 2009 involved reports of distracted driving.
Twenty percent of injury crashes in 2009 involved reports of distracted driving.
Our attorneys have extensive experience handling car accident cases, and know how to determine causation and liability. We will use our skill and experience to help you pursue maximum compensation for the losses you have suffered due to a distracted driver.
Contact the Orlow Firm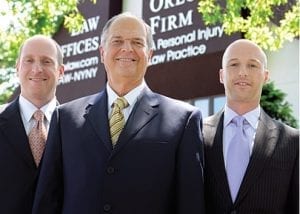 Have you or a loved one been injured by a distracted driver? If so, contact our NYC distracted driving attorneys today for information regarding your legal rights.
To speak with an attorney at the Orlow Firm, call (646) 647-3398 or message us online.