New York City Motor Vehicle Accidents Lawyers
Motor Vehicle Accidents Lawyers & Attorneys
Legal Aid for the injured in New York City since 1981
Being injured in a motor vehicle accident means physical harm, financial detriment and the stress of addressing the multiple issues you face. If you have been injured in a motor vehicle accident involving a commercial vehicle or any other vehicle in New York City, the sooner you contact a NYC car accidents lawyer, the greater your chances of making a full financial recovery.
The Orlow Firm is a law firm experienced in helping victims of motor vehicle accidents recover maximum compensation for injuries, medical expenses, lost wages and other losses. We have represented clients in Brooklyn, New York City, Queens and Manhattan and throughout New York for more than 25 years.
We work to see our clients restored after suffering the physical and financial losses of an auto accident. Contact our NYC motor vehicle accident lawyers for a free consultation regarding your accident or injury.
Managing Complex Legal Issues After an Accident
A motor vehicle accident could affect your life long into the future. Your legal claim is your single opportunity to collect compensation for your losses. When you choose your attorney, it is imperative that he or she is able to manage the complex legal issues that may arise in a car accident, including insurance disputes, medical care, multiple defendants and product liability.
At The Orlow Firm, you will work with a New York City law firm that has more than three decades of experience helping injured clients recover from accidents. Our lawyers will:
Work with you to obtain the appropriate medical care for your injuries
Handle all insurance claims to protect your rights
Assess your needs to ensure that you recover full damages for your losses
Collect necessary evidence, including medical documentation; contact witnesses; and meticulously prepare for trial
Advocate for your maximum compensation for all medical bills, physical pain and suffering, mental anguish, lost wages, property damage, and other injuries associated with your accident
Experienced Attorneys for Motor Vehicle Accidents
Our law firm handles a wide range of motor vehicle accident cases, including pedestrian accidents, bicycle accidents, truck accidents and motorcycle accidents. We have the knowledge and skills to handle complex matters such as:
Commercial Motor Vehicle Accidents
Many commercial vehicle accidents occur because profits are more important than safety to some transportation companies. We may be able to collect compensation for medical expenses, lost wages, pain and suffering, and any disfigurement/disability that results from the accident, depending on the specific circumstances.
New York's No-Fault Auto Insurance Rules
Under New York's no-fault auto insurance rules, victims of vehicle accidents only have 30 days to file a claim for medical expenses and lost wages. You should contact a lawyer as soon as possible to preserve your right to pursue compensation. Anything you say to an insurance company could be used against you to reduce the value of your claim.
Contact The Orlow Firm Today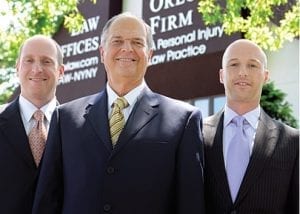 We offer free initial consultations. If you have been injured in a motor vehicle accident, contact us today.
Call (646) 647-3398 or email us.