New York City Pedestrian Accident Lawyers
Hit By A Car In New York City?
Imagine you are walking down the street to go to the corner store, minding your own business.  You look both ways before you cross the street and you keep on walking, when, bam, you are hit by a car.  Pedestrian accidents like this happen all the time.  There are far more incompetent drivers out there than good ones.  As a result, it is far more dangerous to walk in a city today than it has ever been and pedestrians have to be very careful when they cross the street. If you're injured in a car accident, be sure to contact an experienced car accident injury law firm.
Each year an estimated 110,000 people are hit by cars or experience some type of pedestrian accident that results in serious injury.  That's more than 2,000 a week!  Head and spinal injuries, along with fractured bones, are the most common kinds of injuries experienced by pedestrians.
Have you been hit by a car while walking down the street in NYC? If you have been involved in a New York City pedestrian accident, you may be able to recover compensation for your pain and suffering.  Contact an experienced attorney at The Orlow Firm today for more information.
The threat of serious injury to pedestrians increases more and more each day.  With more cars, trucks and motorcycles on the road than ever before, pedestrians are literally sitting ducks to any kind of automobile.  Accidents are far more likely to occur, especially when the driver of a vehicle is momentarily distracted or inebriated.
Other kinds of accidents that may befall pedestrians include dropped objects near a construction site.  A pedestrian can be walking on a sidewalk adjacent to a construction site and have a hammer or other tool hit him or her on the head causing the pedestrian brain damage.  While this type of accident is not as common as vehicle-pedestrian accidents, it is still a valid accident and should be properly researched and investigated by an experienced accident attorney at The Orlow Firm.
Kinds of injuries commonly experienced due to New York City pedestrian accidents include but are not limited to:
Head injuries
Neck and back injuries
Concussions
Fractured hips and bones
Loss of limbs
Paralysis
NYC pedestrian accidents spur outcry over preventable deaths
Frequent pedestrian deaths have New York City residents demanding improved safety. Many find government's response lacking.
Pedestrian injuries and deaths due to accidents on the streets of New York City are all too common. The issue has become such a sore spot across all the boroughs that it sparked the city council to pass a package of bills aimed at improving street safety. Mayor Bill de Blasio signed the measures into law a few weeks back and says the intent of all the measures is to support what he calls Vision Zero — an initiative to eliminate traffic-related fatalities.
Some might wonder whether such action is needed. After all, according to The New York Times, city data indicates that deaths from traffic accidents have been on the decline since 1990. More than 700 deaths were reported that year. By 2000, only 381 had been reported. And by 2011, the number of fatalities had fallen to 249.
Still, there are plenty of official statistics to show that traffic accidents remain a pernicious problem. They reportedly show that a New Yorker suffers serious injury or death every two hours as a result of a crash. Some 4,000 people are hurt and more than 250 are killed every year.
The non-profit Tri-State Transportation Campaign has been studying the problem in depth for the past several years and it reports that between 2010 and 2012, 420 pedestrians have been killed in city traffic accidents. The group has even ranked the most dangerous streets. Broadway in Manhattan is number one with nine fatalities. Woodhaven Boulevard in Queens is number two with eight.
An epidemic of traffic fatalities in New York

The 11-bill package recently signed by the mayor seeks to end what one city council leader calls "an epidemic of traffic fatalities" and serious injuries. Among other things, the bundled measures direct the Department of Transportation to undertake more studies and produce regular reports on traffic flow issues and signal problems.
One calls for the creation of seven Neighborhood Slow Zones through this year and next. It would also lower speed limits to between 15 and 20 mph in areas near 50 schools. Another of the measures would result in taxi and limo drivers who are cited for traffic violations that result in someone being critically injured or killed having their licenses suspended. Yet another lists an array of penalties against drivers of any vehicles that fail to yield to pedestrians and bicyclists.
The mayor has also proposed lowering the default speed limit in the city at 25 mph from the current 30 mph. The idea has already won the approval of the state legislature.
Department of Transportation officials won't say whether some or all the ideas in the plan will be implemented. A spokesman insists that safety is the top DOT priority and that the agency will continue to work with communities to consider all options.
What is clear from all that has been reported is that the public is on high alert and demanding action. Pedestrian accidents happen suddenly and often are the result of driver incompetence, distraction or recklessness. The risks of suffering injuries such as broken bones, brain trauma or wrongful death while simply walking down the street are higher than ever.
Anyone who falls victim to such circumstances should know what their rights are regarding the seeking of compensation. The way to do that is by contacting an experienced personal injury attorney.
What is the most common type of pedestrian accident?
The most common pedestrian accidents in New York occur at crosswalks when cars are turning. Oftentimes when drivers are trying to make a turn, they are paying attention to traffic, but not to pedestrians entering the crosswalk. If you have been injured in a pedestrian accident in New York, contact New York City personal injury attorney Brian S. Orlow of The Orlow Firm for a free consultation.
Are there a lot of pedestrian accident cases in New York City?
As a very busy and crowded borough, Queens can be a dangerous place for pedestrians. The personal injury attorneys at The Orlow Firm have extensive experience representing individuals injured in pedestrian accidents. If you have been injured in a pedestrian accident, contact Queens personal injury attorney Brian S. Orlow for a free consultation.
Contact the Orlow Firm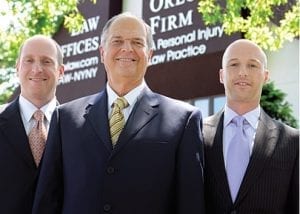 Have you been hit by a car while walking down the street in NYC? If you have been involved in a New York City pedestrian accident, you may be able to recover compensation for loss of wages and pain and suffering.  Contact an experienced attorney at The Orlow Firm today for more information.
Call (646) 647-3398 to speak with an attorney at the Orlow Firm.