New York City Rear End Collisions Lawyers
Rear End Accident Injuries in New York City
A rear end accident involves one vehicle impacting the vehicle in front of it. If you or someone close to you have been injured in a rear end accident by a careless driver, the  car accident attorneys at The Orlow Firm are here to stand up for your rights. We are accomplished personal injury lawyers who are dedicated to achieving justice and compensation for our valued clients.
Contact our New York City, NY law firm today to speak with an experienced NYC rear end collisions attorney.
New York City Driver Negligence Lawyers
Rear end accidents in NYC typically occur because one car comes to a stop and the car behind it does not react in time to avoid a collision. Rear end accidents are common at stoplights, intersections and on freeways where the flow of traffic stops and starts suddenly.
Even at low speeds, rear end accidents can cause whiplash and other soft tissue injuries. At high speeds, they can result in severe injuries to the brain and spinal cord, and even wrongful death.
Rear end accidents are typically the fault of the trailing driver. People who are driving while distracted, drunk driving, driving while tired, or otherwise affected often do not notice the car in front of them until it is too late.
Our attorneys have extensive experience handling rear end accident claims and are prepared to stand up for your rights. We have a proven record of success obtaining favorable settlements and jury awards for people like you.
Contact the Orlow Firm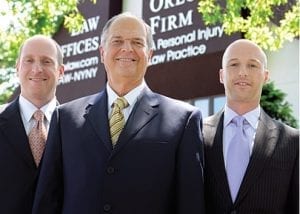 Have you or a loved one been injured in a rear end collision in New York City? If so, contact our New York car accident lawyers today for information regarding your legal rights.
Call (646) 647-3398 to speak with an attorney.