Queens Trucking Accident Lawyers
Queens Trucking Accident Lawyer
Lawyers Representing Clients in Queens injured by Accidents involving Trucks

A truck traveling at high speeds with heavy or dangerous cargo could result in a tragic and devastating highway accident. Trucking accidents may be catastrophic even at low speeds. At The Orlow Firm, we are experienced in representing the victims and families of trucking accidents.
Catastrophic and deadly trucking accidents require the skills of an attorney who can tackle complex litigation and drive your case towards a successful resolution. We work to see you restored after suffering serious injuries.
Contact our offices for more information.
Accidents involving commercial vehicles and trucks can lead to complex litigation involving businesses, insurance companies, multiple defendants, and federal trucking regulations. If you have been injured in a trucking accident, you want to be certain that your attorney is adept in handling the complexities of trucking litigation. Our team of Queens trucking accident attorneys will work to obtain optimal results in your case.
Our team of trucking accident attorneys is experienced with all of the following:
Car Accidents
Car-truck crashes
18 wheeler accidents
Tractor-trailer accidents
Delivery accidents
Wrongful death
Large loads, dangerous products, and other dangerous conditions can lead to catastrophic and fatal accidents involving semis and other large commercial vehicles. If you have been injured in a trucking accident, it is imperative that you contact a Queens trucking accident lawyer as soon as possible. Our attorneys will immediately begin work on your case to ensure that necessary evidence, including witness statements, black box recording evidence, and driver's log records are preserved. We will work to protect your financial security and your interests now and into the future.
Queens Commercial Truck Accident Lawyers
Helping Clients Injured by Big Trucks and Large Transportation Organizations
Large trucks traveling at high speeds with heavy cargo can easily cause serious injuries and wrongful death when drivers are reckless, cargo loaders are careless or owners are negligent. Because of the inherent risk in transporting cargo, in Queens carriers are generally required to carry large amounts of insurance. This ensures that accident victims have access to the compensation they need following serious injuries.
If you or a loved one has been injured in a commercial truck accident, contact the Queens commercial truck accident attorneys of The Orlow Firm. We have represented clients in truck accidents since 1981.
"I was fortunate to benefit from the experience, knowledge and compassion of all three Orlows after being injured in 2004."
Our firm is a father/sons firm that has long been recognized for caring legal service and legal excellence. In fact, attorney Steve Orlow was elected as president of the Queens County Bar Association partially on the strength of his practice and dedication to clients' rights. We are highly experienced in helping clients injured in collisions involving:
UPS, FedEx, Post Office (USPO) and other delivery trucks
Semi trucks, tractor trailers and 18 wheelers
Small- and medium-sized inner-city delivery vehicles
In too many cases in Queens, our investigations reveal that the negligent truck drivers only recently received their commercial driving licenses (CDLs) and are "learning on the road." Other common problems include poorly maintained trucks, or drivers with a history of traffic violations and drunk driving. If you have been injured in a commercial truck accident, do not risk losing the compensation you deserve.
Contact the Orlow Firm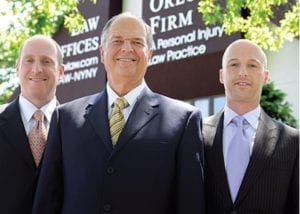 At The Orlow Firm, we take all cases on a "contingent fee" basis. A contingent fee means that the attorneys are paid only at the time when, and if, they recover money damages for the client. A contingent fee thereby allows an injured person with little or no financial resources to obtain competent legal assistance. At the time recovery is obtained, the attorneys' fee is a percentage of the award in the case. If there is no recovery, there will be no attorneys' fees.*
Free consultation: If you have recently suffered an injury or wonder if you have a legal claim, our qualified and experienced lawyers will offer a confidential and honest assessment of your case.
Contact our office by calling (646) 647-3398 today. We will come to you if you cannot come to us.
* Case expenses are advanced by our firm and are reimbursed to the firm by the client at the conclusion of the case.