Brooklyn Construction Industry Third Party Claims Lawyers
Brooklyn Injured Construction Workers With Third Party Claims Obtain Compensation
Many construction industry employees in Brooklyn are surprised to learn that New York law prohibits them from suing their employer or a fellow worker following an on-the-job injury, even if the negligence of an employer or fellow worker clearly caused the accident. Why are the prohibitions in place? Because lawmakers sought to promote workplace harmony by limiting lengthy legal battles between workers and between workers and employers.
Though construction industry workers can't sue their employers or each other, they can sue other parties that may have been liable for their injuries. At The Orlow Firm, our attorneys are have 30 years of experience handling third-party claims for construction accidents. We truly care for each of our clients, and we treat each case as our most important case. This helps us get clients the results they deserve.
Contact us for a free initial consultation. Call (646) 647-3398 or contact us online to learn how we can help you.
Third-Party Claims for Construction Accidents in Brooklyn May Be Available
The father-and-sons team at our Brooklyn law firm have handled hundreds of personal injury claims, including numerous third-party claims following construction site accidents.
For instance, while working on a construction project:
Were you injured on scaffolding assembled by a contractor?
Were you struck by a vehicle or forklift operated by a subcontractor?
Were you injured by material that was improperly loaded off-site by the agents of another firm?
Were you struck by material that was dropped on you from above by a contractor or subcontractor, or were you injured in a slip and fall accident caused by an object or material left by a third party?
You have a right to pursue damages against anyone liable for your injuries except your employer and your co-workers. This is good news because third-party litigation almost always yields more compensation than workers' compensation benefits.
Undocumented workers also have the right to compensation for injuries received on job sites. Our law firm represents undocumented workers in these claims. Se habla español.
Contact The Orlow Firm Today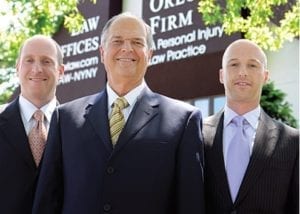 Contact the experienced Brooklyn third-party claims attorneys at The Orlow Firm for more information regarding third-party claims. We offer free initial consultations and operate four offices across New York City for your convenience. We can go to you if you cannot come to us.
To contact a lawyer, call (646) 647-3398 or contact us online.