Brooklyn Ladder Accident Lawyers
Are you a construction worker injured in a ladder accident in Brooklyn?
A fall from a broken or unsecured ladder while on a construction site can result in broken bones, neck injuries, back injuries, spinal cord injuries, paralysis and death. If a third party was at fault for your injury, you may be entitled to significant compensation for those injuries and disabilities.
The Orlow Firm has more than 30 years of experience helping injured workers obtain the compensation they need after ladder accidents and other serious construction accidents. We truly care for each of our clients, and we treat each case as the most important case we have. As our testimonials show, we are dedicated to getting you the results that you deserve.
Do not accept anything less than the personal attention you deserve. Call (646) 647-3398 or contact us online for a free consultation regarding your ladder accident case. We serve clients throughout New York City.
We Will Thoroughly Investigate Your Case
If you slipped and fell off a ladder or a scaffold at a construction site, another party may be at fault. Through a thorough investigation, our attorneys will examine:
The condition of the work site
Safety measures in place at the work site
The maintenance and condition of the ladder being used
Whether the correct equipment was being used
Whether workers in the area were aware of the work being done
The investigation is an important part of your case. We will consult with experts, identify the cause of your accident or injury, collect medical documentation and apply our keen knowledge of construction law to your case. We know how to protect your rights and ensure that you and your family are fairly compensated.
Third-Party Claims May Be Available
If you have been injured in a construction accident, you should contact a lawyer as soon as possible to discuss your rights to compensation. Even if you are receiving workers' compensation benefits, you may be eligible for additional damages if a third party (someone other than your employer or a co-worker) caused your injuries. Settlements and verdicts awarded to victims of construction accidents caused by third-party negligence are typically much greater than workers' compensation awards.
Contact Our Brooklyn Ladder Accidents Lawyers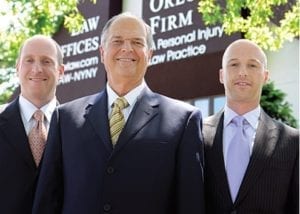 If you have been injured or lost a loved one in a construction accident, let Brooklyn construction accident attorneys at The Orlow Firm show you how we can help. You will work with a named partner at our firm, and we believe you should expect nothing less. Our cases are handled on a contingent fee basis, which means that we are paid only if we obtain money damages in your case.
Call (646) 647-3398 or contact us online for a free consultation. Se habla español.