New York City Contractor and Subcontractor Liability
Representing Workers' Compensation Cases That Involve Contractors and Subcontractors in New York City
Construction sites, especially large construction sites, can be chaotic. Often, multiple workers and several contractors and subcontractors are on location at the same time. Although they may work separately, contractors and subcontractors depend on one another for safety. One careless or negligent move could result in injury or death to another worker.
After a construction site accident, injured workers may look first to workers' compensation to recover, but it may not cover the full cost of injuries. Although employers cannot be sued for workplace injuries, other parties that contributed to an accident can be held liable. We can help you with contractor and subcontractor liability claims.
The Orlow Firm has been representing injury victims for more than 30 years. We have the experience and knowledge to recognize when an injured worker can pursue a case beyond a workers' compensation claim and the dedication that people need when they are struggling to recover from serious injuries. Our attorneys serve clients in NYC and throughout New York City.
Third-Party Claims Against New York City Contractors
Contractors and subcontractors have a duty to provide a safe work environment for construction workers and others at a construction site. When they fail to make sure that a work site is safe, they may be held liable for injuries and deaths that occur as a result. Contractor and subcontractor liability may result from:
Falls from scaffolds or other heights
Electrocutions
Injuries due to being struck by machinery
Exposure to asbestos or chemicals
Injuries from unreasonably safe equipment
Other injuries due to fights
As an injured construction worker, you can pursue claims against contractors that caused or contributed to your injuries. Through a successful third-party construction claim, an injured worker can usually obtain more compensation than through workers' compensation alone.
Contact The Orlow Firm Today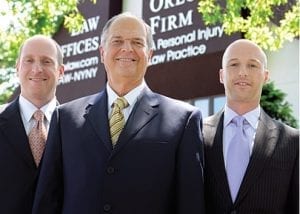 If you have a potential contractor and subcontractor liability claim, contact New York construction accidents attorneys at The Orlow Firm for a free initial consultation. For your convenience, we maintain four offices throughout New York City.
Call (646) 647-3398 or contact us online.