New York City Construction Site Safety Lawyers
Lawyers Handling Cases Involving Construction Site Safety in New York City Since 1981
Maintaining a safe construction site is one of the most important components in a construction site safety program. Maintaining said safety is also one of the most difficult. Construction site maintenance involves almost all elements of the site and requires constant diligence on the part of builders and developers.
While achieving construction site safety is a challenging goal, state and federal laws and regulations both guide construction site operators and hold them accountable. When they fail to operate a safe construction site and injuries occur, injured workers usually have the right to pursue compensation.
Learn how The Orlow Firm can help you after a construction site accident in NYC. Call (646) 647-3398 or contact us online. We offer free initial consultations.
New York City Construction Site Maintenance Lawyers
We can provide the experienced legal assistance you need following injuries due to construction site safety lapses. We can represent you if you have suffered injuries caused by:
Dangerous equipment
Unclean tools and machinery
Scattered items that can result in slip-and-fall accidents
Electrocution resulting from improperly connected extension cords, poorly maintained power tools and the failure to place rubber mats over potentially harmful ground wiring
Unsafe building and site ingresses and egresses/entries and exits
Failure to lay wood planks down over unsafe surfaces
Collapsed trenches
Defective scaffolds, ladders, saws, nail guns, forklifts and cranes
Unsafe inclines
Failure to provide safe surfaces after rain and snow
Did you fall through an unprotected and unfinished stairwell? Did you slip while moving a wheelbarrow up or down a slippery surface? Were you required to move unsafely from one scaffold to another? You may have a right to pursue both a workers' compensation claim and a third-party claim.
Third-party claims, which are filed against someone other than your employer or co-worker, can result in higher monetary awards that workers' compensation. At The Orlow Firm, our attorneys have more than 30 years of experience helping clients obtain the results they deserve.
Undocumented workers have the same rights to compensation as other workers in NYC. For more information, review our page on undocumented workers. Se habla español.
Contact The Orlow Firm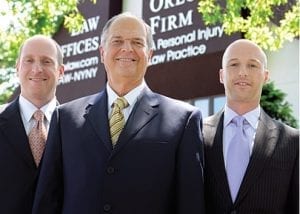 If you are injured in a construction site accident, call New York City personal injury attorneys at The Orlow Firm. To learn more about how we can help you, contact us for a free initial consultation. You will always work with a named partner at our firm, and we believe that you should expect nothing less.
Call (646) 647-3398 or contact us online. We can go to you if you cannot come to us.