New York City Workplace Hazard Lawyers
Helping Injured Construction Workers Due to Workplace Hazards in New York City Since 1981
The construction of most buildings in NYC requires the transport and use of thousands of tons of materials. Builders, developers and construction company owners engaged in a construction project owe their workers a safe project site.
Too often, though, shortcuts and cost-cutting result in serious injuries to construction workers and even fatal accidents. If you have been injured on a construction site because your manager, supervisor or other party failed to follow safety procedures, The Orlow Firm can work to help you obtain the compensation you need and deserve.
At the Orlow Firm, you will always work with a named partner who truly cares for each of our clients. We treat each case as our most important case, which helps us get the results our clients deserve. For a free consultation, call (646) 647-3398 or contact us online.
New York City Lawyers for Unsafe Working Conditions
NYC construction accident lawyers of The Orlow Firm can provide the experienced legal representation you need. We can help if you were injured because:
A superior removed the safety guard from a tool or asked or demanded that you do so
A tractor, bulldozer, forklift, boiler, generator, elevator, crane or other vehicle or piece of machinery was not adequately maintained
Material was left in a dangerous location, leading to crushing or a slip-and-fall injury
Only poorly maintained tools, ladders or other equipment was available
Safety rails were lacking near stairwells or dangerous edges
Scaffolding was improperly assembled and collapsed or came partially apart
We have handled numerous third-party claims against contractors, subcontractors and other third party individuals and organizations. In addition to working to obtain compensation in your third-party claim, we can refer you to an experienced workers' compensation lawyer.
Undocumented workers have the right to be compensated for injuries due to workplace hazards just like other workers in New York City. Se habla español.
Contact The Orlow Firm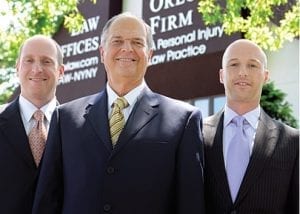 For more information regarding your possible right to a third-party claim following a construction accident, contact The Orlow Firm. We offer free initial consultations and operate four offices across New York City for your convenience. We can go to you if you cannot come to us.
To contact a lawyer, call (646) 647-3398 or contact us online.