Bronx Negligent Elevator Maintenance Lawyers
Bronx Negligent Elevator Maintenance Lawyers
New York is home to many high-rise buildings and elevator systems. Each year, there are anywhere from a dozen to more than 100 elevator accident cases in the New York City area. Most aren't very serious (a snagged purse or a harmless trip on an uneven surface are common), but others are extremely dire.
If you have been injured in an elevator accident, the attorneys at The Orlow Firm can help determine whether negligent elevator maintenance contributed to the accident. Call (646) 647-3398 or contact us online for a free consultation.
We Hold Bronx Companies Liable for Elevator Maintenance Errors
An elevator accident is not always an "accident." In some cases, manufacturers, maintenance crews or inspection teams are to blame for improper maintenance or improper inspection of the elevator. In such situations, people can be at serious risk for injury or even death simply by taking the elevator. To uncover hidden negligence and maintenance errors, you need dependable injury attorneys on your side.
At The Orlow Firm, we are a team of father and sons attorneys who have made it our mission to defend those who have been injured in elevator accidents and other personal injury cases. Although the number of elevator accident cases is relatively low compared with other accident types, these cases quite often involve error on the part of a third party. If a third party is to blame for your accident, that party should compensate you for your suffering.
We will pursue the manufacturer, the building supervisor or even the building inspectors if we find evidence to show that they are at fault. The fact that elevators are considered very safe (you have just a one in 12 million chance of being hurt on an elevator) is all the more reason to hold these third parties responsible for their maintenance mistakes.
Contact Our Bronx Elevator Injury Attorneys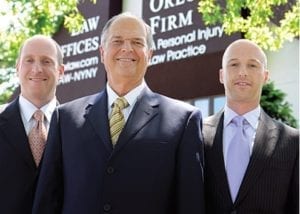 We offer free consultations. To learn about your options after an elevator accident, email our attorneys today or simply give us a call at (646) 647-3398.