New York City Property Owner Liability Lawyers
Lawyers Who Understand Third-Party Claims
Under workers' compensation laws, construction workers can receive benefits to cover lost wages and medical expenses when they are injured in a work-related accident. Unfortunately, these benefits may not cover the total cost of injuries. In some situations, workers can obtain additional compensation from property owners who cause or contribute to an accident.
Claims of property owner liability can be complex and hard to identify. Often, an injured worker may not realize that a property owner or other third party can be held accountable. At The Orlow Firm, our lawyers understand the circumstances in which third-party claims arise against property owners, and we have the experience and dedication that our clients need. We serve injured victims in NYC and throughout New York.
About Property Owner Liability
Property owners have a duty to make sure their land and buildings are safe for construction workers. New York's construction safety laws provide strong protections for workers. When property owners fail to provide a safe environment for construction workers, they may be held liable in a third-party claim just like contractors and subcontractors.
Property owners may be liable for accidents caused by:
Exposure to toxic chemicals
Trips or falls on unsafe walkways
Fires and explosions
Falling objects
Falls through holes or from heights
The law regarding third-party claims provides significant protections for workers, but it is complex. Property owner liability will depend on the law and the circumstances of the case.
The Orlow Firm has more than 30 years of experience helping injured people recover the compensation they need after accidents. We understand New York's labor laws and how they can benefit injured workers.
Contact The Orlow Firm Today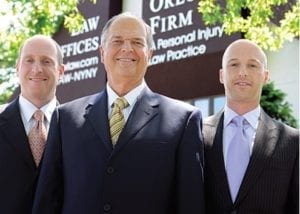 If you have been injured in a construction accident or lost a loved one in a work site accident, contact New York City property owner liability attorneys at The Orlow Firm for a free initial consultation. For your convenience, we maintain four offices throughout New York City.
Call (646) 647-3398 or contact us online.