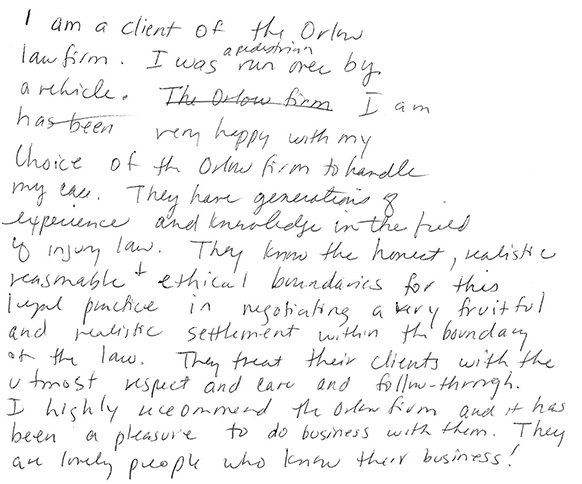 Good afternoon, Mr. Orlow. I just wanted to e-mail you to thank you and your entire staff for doing the best job anyone could ever ask for of a law firm. You and your entire staff has made this entire process rewarding and stress free. It's good to know that there is still a law firm out there that does a fantastic job. I've been treated with the utmost respect, dignity, kindness and professionalism. I did receive my check and was satisfied with the results and outcome with all that you and your organization did. If I ever come across anyone that needs a GET THE JOB DONE law firm I will most certainly recommend some of the best people in the business. Thanks again Mr. Orlow for all you have done for me and my family. May God bless you and your entire firm as you have allowed me and my family to be blessed.

- D.A.
Thank you so much for the wonderful work you did for me on my auto accident case. The care and attention you gave to me, I truly appreciate. I will be happy to recommend you and your firm to others. It has been a great pleasure to coming to know you. Thank you for a great experience in working with a truly wonderful law firm such as yours.

- D.G.
I am currently a client of your law firm and I am writing this greeting with sincere admiration for all the legal representation that your firm has and will continue to bestow upon me. At the time when justice seems to only be another "J" word, your firm has given Americans, such as myself, justification for the injustice.

- D.R.
Dear Mr. Orlow: I'd like to thank you, along with Adam and Brian, for the work you did on my accident case. Everyone at the firm provided clear and concise explanations and advice as my case moved along. I … have yet to fully recover physically from the accident. But at least the legal issues were resolved to my satisfaction, thanks to the Orlow Firm. I hope that neither I nor any member of my family will ever be an accident victim again. But I would certainly recommend your firm it anyone asks if I know some good personal injury lawyers.

- F. K.
View More: